Government advances USD97 million to repay paper mill debts
The government has so far advanced USD97 million to pay debts for the Phuong Nam Pulp Mill which is one among 12 loss-making projects of the Ministry of Indsutry and Trade.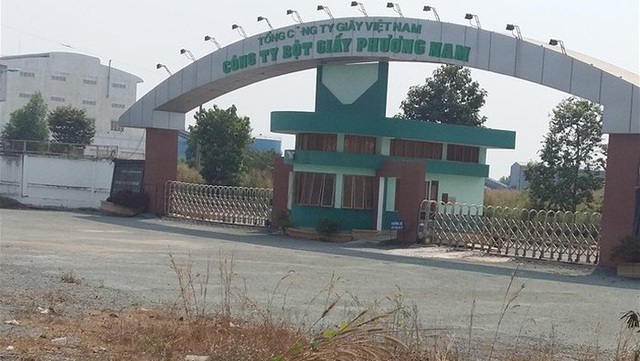 Phuong Nam Pulp Mill has been offered for sale for a third time


The government recently reported to the National Assembly on the public loans and debts in 2018 and updated the operation of the Debt Accumulation Fund which had a balance of VND82.7 trillion by December 31.

According to the Government report, the fund advanced USD8.13 million to repay the debts of the Phuong Nam Pulp Mill last year, raising the total amount to USD97 million by far.


However, the Ministry of Industry and Trade and the Phuong Nam Pulp Mill hasn't been able to sell the mill's assets to repay the fund, the report said.
The loss-making Phuong Nam Pulp Mill, a subsidiary of the Vietnam Paper Corporation (Vinapaco), was auctioned off in July 2017 with an initial price of VND1.885 trillion (USD82.94 million).

According to the Vietnam Auction Company, Phuong Nam's entire fixed assets, goods inventory and usage rights of a 453,755 sqm plot of land in Thuan Nghia commune of Thach Hoa district, has been put up for sale.

The pulp mill is one of the 12 state-owned projects under the management of the Ministry of Industry and Trade which have incurred huge losses over recent years.

Over VND3.4 trillion (US$149.6 million) has been poured in the Long An province-based mill but the mill has been unable to operate effectively as malfunctions were continuously encountered since its initial trial run.

Tracodi, a company under the Ministry of Transport, initially provided investment for the project in 2003, but it was later transferred to Vinapaco in 2009.

According to an independent consultant hired by Vinapaco, in the optimal conditions, the mill would incur a loss of VND4 million (USD176) per tonne of product.
Besides Phuong Nam, the fund also has also advanced USD44 million to pay debts for the La Son-Tuy Loan Expressway project which was carried out by the Ministry of Transport.

Some other loss-making projects include the Ninh Binh Fertilizer Plant, the Bio-Ethanol Dung Quat Plant, and the Thai Nguyen Iron and Steel Plant.

According to the ministry, as of December 31, 2017, the 12 inefficient projects had total equity of VND33.41 billion, down VND4 trillion over the same period in 2016, while their assets and debts were VND58 trillion and VND58.5 trillion, up by VND366.7 billion and VND3.4 trillion respectively.