Father and daughter call for help to fight cancer
A family in Bac Giang Province is in desperate need of financial support to help provide treatment for the father and daughter who are both struggling with cancer.
Nguyen Thuy Huong's family has four members but two of them suffer from cancer.

Nguyen Thuy Huong


Nguyen Thi Bich, head of Trong Ha Villager, said, "Huong is a single mum. She has been diagnosed with cancer for years. She had been given radiotherapy treatment at Vietnam National Cancer Hospital in Hanoi. However, her tumours have spread and she is very weak."


In late 2018, Huong's father, Nguyen Trong Luong, was also diagnosed with the last stage of liver cancer. His belly has swollen, causing him great pain. The neighbours had to donate money to get him to the hospital.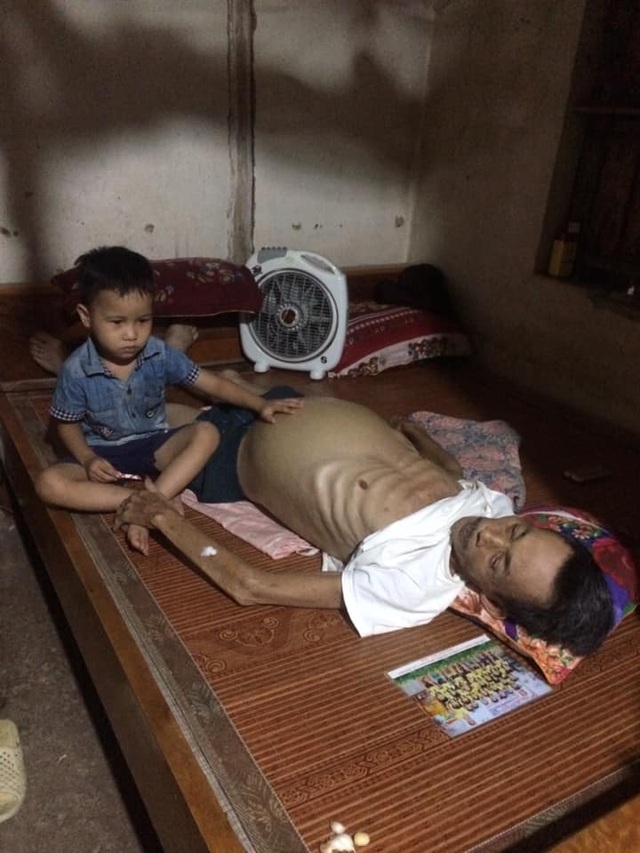 Nguyen Trong Luong is struggling with liver cancer

"My neck hurts and I have breathing difficulties. Doctors said I had tonsil cancer. That time, I was too weak so my father had to carry me on his back around the hospital for tests," Huong said. "I couldn't do anything for my father."

Huong's mother, Nguyen Thi Thuy, said she wanted to admit her but they had no money for treatment. Huong's health keeps deteriorating quickly. She now only weighs 30kg.

If you can help them please donate through:

1. Code: Nguyen Thi Thuy from Trong Ha Village, Cao Thuong Commune, Tan Yen District, Bac Giang Province.

Tel: 0374.090.771

2. Dantri/DTiNews

No. 2/48 Giang Vo Str., Dong Da Dist., Hanoi

Tel: 024. 3. 7366.491/ Fax: 024. 3. 7366.490
Email: nhanai@dantri.com.vn

* Vietnam Dong Account information at Vietcombank:

Account holder: Bao Dien tu Dan tri
Account number: 451000476889
With Bank: THE BANK FOR FOREIGN TRADE OF VIETNAM – Thanh Cong Branch

* US Dollar Account information at Vietcombank:

Account holder: Bao Dien tu Dan tri
Account number: 0451370477371
SWIFT Code: BFTV VNVX 045
With Bank: THE BANK FOR FOREIGN TRADE OF VIETNAM

* Vietnam Dong Account information at Vietinbank:

Account holder: Bao Dien tu Dan tri
Account number: 129 0000 61096
With Bank: Vietnam Joint Stock Commercial Bank for Industry and Trade – Hoan Kiem Branch

* Vietnam Dong Account information at BIDV
Account holder: Bao Dien tu Dan tri
Account number: 2611 000 3366 882
At: Bank for Investment and Development of Vietnam, Trang An Branch
Address: No. 11, Cua Bac Street, Ba Dinh District, Hanoi; Tel: 0436869656.

* USD Account information at BIDV
Account Name : Bao Dien tu Dan tri
Account Number : 2611 037 3366 886
Swift Code : BIDVVNVX261
Bank Name : Bank for Investment and Development of Vietnam JSC,Trang An Branch
Address : No 11 Cua Bac Str.,Ba Dinh Dist.,Hanoi, Vietnam; Tel: (84-4)3686 9656.

* Vietnam Dong Account information at MB Bank:
Account holder: Bao Dien tu Dan tri
Account number: 0721101010006
With Bank: MILITARY COMMERCIAL JOINT STOCK BANK - Thai Thinh Branch, Hanoi

* US Dollar Account information at MB Bank:
Account holder: Bao Dien tu Dan tri
Account number: 0721101011002
SWIFT Code: MSCBVNVX
With Bank: MILITARY COMMERCIAL JOINT STOCK BANK - MCSB (No.3, Lieu Giai str., Ba Dinh Dist., Hanoi, Vietnam)

* Vietnam Dong Account information at Agribank:
- Account holder: Bao Dien tu Dan tri
- Account number: 1400206034036
- At Agribank, Lang Ha Branch, Hanoi
3. Dantri/DTiNews' representative offices

Ha Tinh office: 46 Nguyen Cong Tru, Tan Giang Ward, Ha Tinh City, Tel: 0239.3.857.122
Da Nang office: 25 Nguyen Tri Phuong, Thanh Khe District, Da Nang City, Tel: 0236. 3653 725
HCM City: No. 294 - 296, Truong Sa Street, Ward 2, Phu Nhuan DIistrict, HCM City; Tel: 028. 3517 6331 (during working hours) or hotline 0974567567
Can Tho office: 53/13 Ly Tu Trong, Ninh Kieu District, Can Tho City, Tel: 0292.3.733.269