Cerebral palsy twins in need of help
A couple in Bac Giang Province are calling for financial help to support their twins who are both struggling with cerebral palsy.

Anh Thu tied up to the bed
The family of Nguyen Thi Nhung is one of the most difficult cases in Son Giao Village.

Hoa, owner of a grocery store in the village, said, "They're in a really difficult situation, probably the most difficult case in this district. Nine people live together in a small house and it's really hot in summer. Their twins used to be brought to the hospital but since the money ran out, they have to stay home."

The 7-year-old girl was tied up to the beds. She squirmed on the beds with foam at the mouth. Nhung said her daughter, Anh Thu, can't speak or walk. A change in weather can make her writhe in agony and hurt herself.

Doctors said she needed to be brought to the central hospitals but the family still can't pay their old debts yet.

"It hurts me seeing them like this. I just want to walk away so that I don't have to see such scenes again but I can't do that," Nhung said.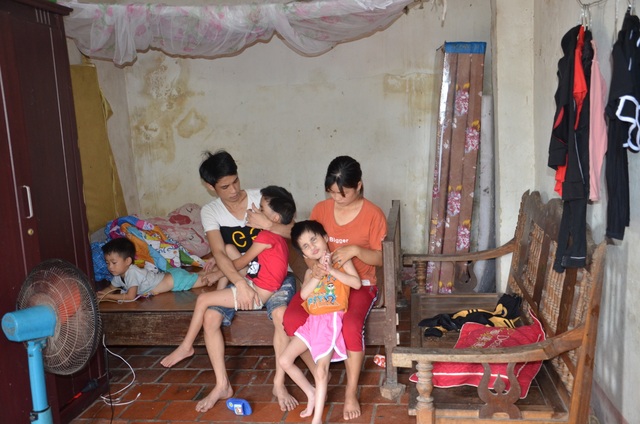 The family lives in a small house


When she was pregnant with the twins, Nhung was happy but she gave birth to the twins prematurely at the 7th month of pregnancy. One child weighed 1 kg and the other only 800 gr. They had to stay in the incubation for a month and spent the next year going to hospitals.

But both of the twins are blind with cerebral palsy. Nhung's daughter also has hydrocephalus. Thu's twin brother is still aware of the surroundings and can walk and talk.

"I want to go to school," said Anh Nhu, Nhung's son. "Can you bring some milk again when you visit us next time?"

Nguyen Van Trung, chairman of the Red Cross Organisation in Hiep Hoa District, said, "They are exhausted after years of bringing the children to hospitals. Nhung and her husband earn little as a seamstress and carpenter. They have to depend on the little month allowance for poor families. I hope that the children will get help."

If you can help please donate through:

1. Code 3754: Nguyen Thi Nhung from Son Giao Village, Ngoc Son Commune, Hiep Hoa District, Bac Giang Province.

Tel: 0397242726

2. Dantri/DTiNews

No. 2/48 Giang Vo Str., Dong Da Dist., Hanoi

Tel: 024. 3. 7366.491/ Fax: 024. 3. 7366.490
Email: nhanai@dantri.com.vn

* Vietnam Dong Account information at Vietcombank:

Account holder: Bao Dien tu Dan tri
Account number: 451000476889
With Bank: THE BANK FOR FOREIGN TRADE OF VIETNAM – Thanh Cong Branch

* US Dollar Account information at Vietcombank:

Account holder: Bao Dien tu Dan tri
Account number: 0451370477371
SWIFT Code: BFTV VNVX 045
With Bank: THE BANK FOR FOREIGN TRADE OF VIETNAM

* Vietnam Dong Account information at Vietinbank:

Account holder: Bao Dien tu Dan tri
Account number: 129 0000 61096
With Bank: Vietnam Joint Stock Commercial Bank for Industry and Trade – Hoan Kiem Branch

* Vietnam Dong Account information at BIDV
Account holder: Bao Dien tu Dan tri
Account number: 2611 000 3366 882
At: Bank for Investment and Development of Vietnam, Trang An Branch
Address: No. 11, Cua Bac Street, Ba Dinh District, Hanoi; Tel: 0436869656.

* USD Account information at BIDV
Account Name : Bao Dien tu Dan tri
Account Number : 2611 037 3366 886
Swift Code : BIDVVNVX261
Bank Name : Bank for Investment and Development of Vietnam JSC,Trang An Branch
Address : No 11 Cua Bac Str.,Ba Dinh Dist.,Hanoi, Vietnam; Tel: (84-4)3686 9656.

* Vietnam Dong Account information at MB Bank:
Account holder: Bao Dien tu Dan tri
Account number: 0721101010006
With Bank: MILITARY COMMERCIAL JOINT STOCK BANK - Thai Thinh Branch, Hanoi

* US Dollar Account information at MB Bank:
Account holder: Bao Dien tu Dan tri
Account number: 0721101011002
SWIFT Code: MSCBVNVX
With Bank: MILITARY COMMERCIAL JOINT STOCK BANK - MCSB (No.3, Lieu Giai str., Ba Dinh Dist., Hanoi, Vietnam)

* Vietnam Dong Account information at Agribank:
- Account holder: Bao Dien tu Dan tri
- Account number: 1400206034036
- At Agribank, Lang Ha Branch, Hanoi
3. Dantri/DTiNews' representative offices

Ha Tinh office: 46 Nguyen Cong Tru, Tan Giang Ward, Ha Tinh City, Tel: 0239.3.857.122
Da Nang office: 25 Nguyen Tri Phuong, Thanh Khe District, Da Nang City, Tel: 0236. 3653 725
HCM City: No. 294 - 296, Truong Sa Street, Ward 2, Phu Nhuan DIistrict, HCM City; Tel: 028. 3517 6331 (during working hours) or hotline 0974567567
Can Tho office: 53/13 Ly Tu Trong, Ninh Kieu District, Can Tho City, Tel: 0292.3.733.269