New Dantri classroom project launched in Nghe An
Dantri/DTiNews has started the construction of a kindergarten project in Nghe An Province on December 10.

New Dantri classroom project launched in Nghe An

In order to reach Hoa Xuan Village, travellers have to cross difficult mountain roads and it usually takes nearly one hour on a 15-km road to reach the destination. Even though the classrooms can't protect the children from the winds yet, Dantri readers have donated clothes to help them fight against the cold.
Hoa Xuan nursery school site is part of Keng Du Commune Nursery School. All of the children there are from Kho Mu ethnic groups. The school only has one teacher who teaches and cooks for 23 children.

Duy Thao, Dantri representative, said, "We can really experience your hardship after reaching the site. Today, the Vietnam Fund for Learning Promotion and Dantri Newspaper will work with the authorities in Ky Son District, Keng Du Commune and Keng Du Border Guard to start the classroom project to help the children."

The project has VND200m in investment donated by Mitec Vietnam Company and is expected to be completed in January.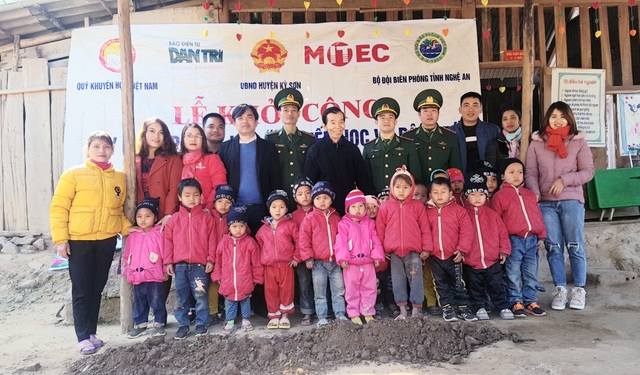 Teacher and children in Keng Du attend the ceremony

In the past years, Dantri has built 17 bridges for remote and rural areas thanks to kind readers. In Nghe An Province, Dantri Newspaper, Shinnyo-en organisation and the authorities in Que Phong District and Tri Le Commune opened five classrooms for the children on December 15, 2016. On September 1, 2017, Dantri and Garment 10 JSC opened a new bridge at Con Phen Village.

This is the 38th Dantri classroom project Vietnam.

"We hope that there will be more chances for us to co-operate and Dantri will be a bridge connecting those in needs with donors so that there will be more bridges and classrooms in Nghe An," Thao said.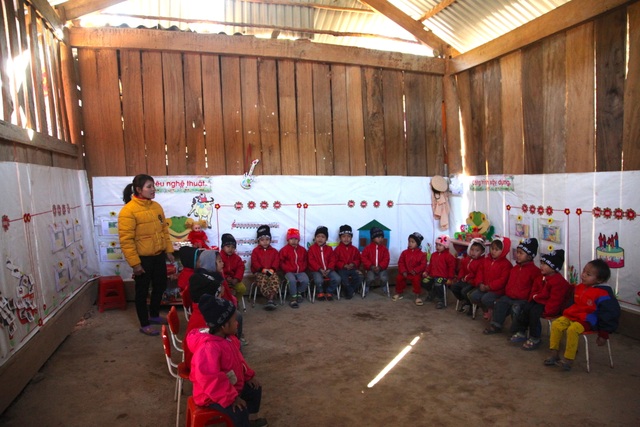 The dilapidated classroom

Luong Van Ngam, chairman of Keng Du Commune People's, said he was glad when the classroom project was started.

"This is a meaningful project that will help the children have a better studying environment. More children will go to school instead of going to the fields with their parents," Ngam said.

Keng Du Commune has over 800 households with 5,000 people living in 10 villages. Most of the residents are Kho Mu and Thai ethnic groups of which Kho Mu ethnic people account for 90% of the commune's population. The commune has 1,347 children from nursery to secondary school.

Their lives depend on the fields, the cattle and the weather. Last year, they have lost a huge crop because of drought. 80% of the population are poor households, making Keng Du the poorest commune in Ky Son District.