NA Chairman highlights education links as pillar of Vietnam-Australia ties
For nearly half a century, education and training co-operation has been a pillar and a bright spot in the friendly relationship between Vietnam and Australia, according to National Assembly (NA) Chairman Vuong Dinh Hue.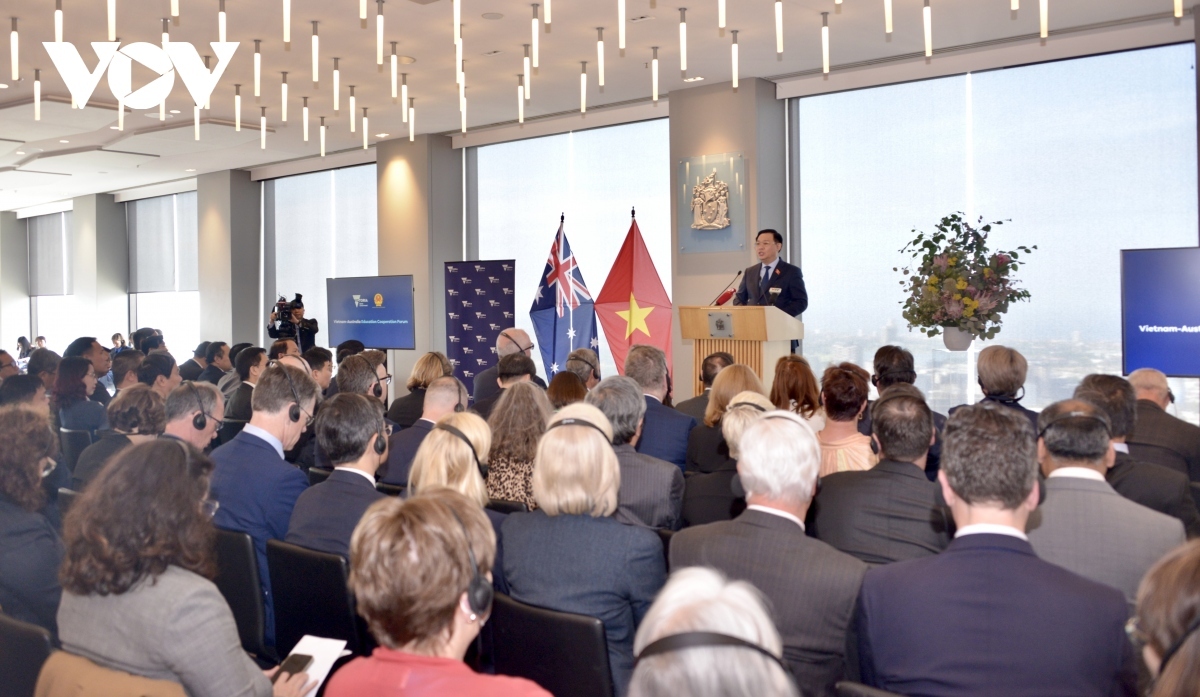 National Assembly Chairman Vuong Dinh Hue speaks at the forum


NA Chairman Hue attended the Vietnam - Australia Education Cooperation Forum on the morning of December 2 (local time) in Melbourne as part of his ongoing activities taking place during his official visit to Australia.

Speaking at the forum, the top Vietnamese legislator made five proposals, including increasing the number of joint training programmes between Vietnamese higher education institutions and Australia's highly ranked tertiary education institutions.

As part of his remarks at the forum, Australian Senator Tim Ayres, Assistant Minister for Trade and Assistant Minister for Manufacturing, affirmed that education continues to play an important role in bilateral ties. The two countries are making specific efforts in a bid to try and improve the education system, as well as ties in terms of economics, trade, and investment co-operation.

Senator Ayres said that the relationship between the two countries is largely based on the spirit of mutual respect, economic linkages, deep people-to-people exchanges, and an indispensable co-operation in education, research, and training.

In 1974, just one year after the two countries first established diplomatic relations, Australia granted its first scholarships to Vietnamese students. Since then, more than 80,000 Vietnamese students have gone on to complete their studies in the host nation.

Both sides are enjoying opportunities in education and training, especially through the strategy for economic co-operation, Senator Ayres said, adding that the two countries have a common commitment to become the Top 10 for trade co-operation and double trade turnover.

Importantly, there are Vietnamese students studying in Vietnam, but who still receive Australian degrees. This reflects the openness of a modern Vietnamese society that features new ideas, fresh approaches, and can draw plenty of investment, he went on to say.

Appreciating the Vietnamese renovation process and its goal of becoming a high-income country by 2045, the Australian Senator emphasised that this goal can only be achieved with a highly-skilled workforce, with co-operation in education and training set to play an important role.

With roughly 30,000 Vietnamese students studying and researching in Australia, Vietnam ranks fourth among countries with students throughout the Oceanic nation.

According to the Vietnamese NA leader, co-operation in education and training between both sides not only helps to develop human resources to serve the rapid and sustainable economic development of each country, but also serves as a cultural link between the two nations and a bridge of friendship.

Vietnam is in the process of implementing action plans to realise these goals based on the pillars of reformed legal and institutional frameworks, development of education and training, and science and technology.

Along with the comprehensive development of co-operative ties, both nations must focus on three key points, including sharing their respective learning experiences, outlining the framework of national training programmes at all levels, and promoting start-ups and innovation among students, NA Chairman Hue continued.

In order to connect educational institutions, NA Chairman Hue made five proposals, including increasing the number of joint training schemes between Vietnamese higher education institutions and Australia's highest ranked higher education institutions, with a specific focus on science and technology and doctoral training.

It can therefore be viewed as necessary to strengthen the exchange of students and lecturers, as well as promote research co-operation between Australian and Vietnamese universities. Indeed, there should be a focus on encouraging more prestigious Australian universities to open branches in Vietnam, NA Chairman Hue said.

This should be done by supporting English teaching and learning in Vietnam, including sharing learning resources.

NA Chairman Hue said he believes that the Vietnam-Australia education co-operation forum will open a new stage for sustainable and long-term education links as a contribution to further strengthening the strategic partnership between the two nations.

At the forum, NA Chairman Hue and Australian Ambassador to Vietnam Andrew John Lech Goledzinowski witnessed the exchange of 12 documents and memorandums of understanding between Vietnamese and Australian universities. This relates to the exchange of lecturers and students, research co-operation, academic exchanges, joint training in fields such as transportation, agriculture, engineering, and polytechnics.