New bus route to Noi Bai Airport proposed
Hanoi's Transport Department has proposed the city People's Committee to open a new bus route to Noi Bai International Airport from Ha Dong District.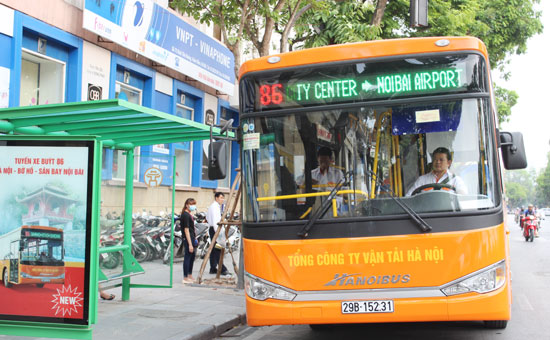 The buses running on the 40.7-km route are expected to serve people who want to travel by bus from Hanoi's western part to the airport and vice versa.

The buses would run every 30 minutes, from 5 am at the bus stop in front of Mê Linh Plaza Ha Dong until 9.30 pm. The first bus at Noi Bai Airport start at 6.28 am and the last one departs at 9.30 pm. It takes about 70-75 minutes to travel the whole route.

Ha Dong- Noi Bai Airport bus ticket is VNĐ40,000 (US$1.72) per trip. According to the Transport Department, the Ha Dong-Noi Bai Airport buses are not subsidised, costing less travel time than subsidised ones because of fewer stops.

Each bus could carry 60-80 passengers and offer free Wifi.

In 2016, Hanoi launched first non-subsidised bus route connecting downtown Hanoi with Noi Bai Airport which costs VNĐ30,000 ($1.35) per leg. The No86 route spans 33km with eight stops, starting from the Hanoi Station at Lê Duẩn Street.

The buses No86 have been operating effectively thanks to good service and available wifi connection.