Durian prices sharply fall
>> Durian export surge pays off for Mekong Delta growers
Southern durian prices have sharply halved compared to last month.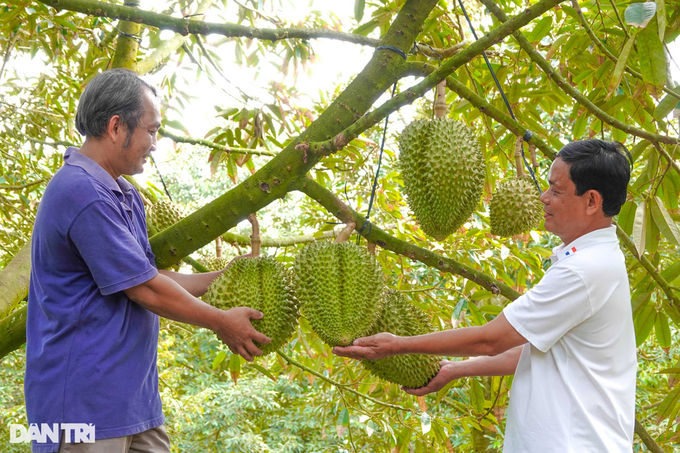 Durian farmers in Tien Giang Province

Many farmers in Tien Giang, Long An, Binh Phuoc, and Dong Nai have seen the prices plummet to between VND75,000-85,000 per kilo, down by 15-20 percent compared to last week and by 50 percent against last month's prices.

A farmer in Long An, Nguyen Trung, said that he has just sold eight tonnes of durian at between VND70,000-80,000 per kilo depending on the sizes.


"I decided to sell them all, fearing that the prices may continue to fall," she said.


Mai Ha, another farmer in Tien Giang Province said that she has also sold all the fruits from her garden amid falling prices.


"I'm afraid that the prices will continue to fall as the season matures and supply will be high," Ha said.

A woman buys durian from a trader in Long An Province

According to Van Hoa Investment and Development Company, more export orders were still coming.
"We're buying from 20-30 tonnes of durian for export every day at between VND 75,000-95,000 per kilo," the company said.


Explaining the falling prices, the company said that the main durian season meant more supplies from Dong Nai and Binh Phuoc, and Dak Lak. It is forecasted that the prices will fall further in the coming months as Thailand and the Philippines durian harvests begin.

According to the Ministry of Agriculture and Rural Development, durian growing areas have continued to be expanded in the Mekong Delta region after the fruit was officially exported to China. By the end of 2022, durian has been grown across 110,000 hectares, some 35,000 hectares more than the ministry's plan.

The ministry has warned local farmers not to expand durian growing areas to avoid oversupply, especially as China intends to harvest their own durian and import the fruits from Laos and the Philippines.