Hoi An welcomes the 10 millionth visitor
The local authorities of Hoi An Town will host an event to welcome the town's 10 millionth visitor on May 12.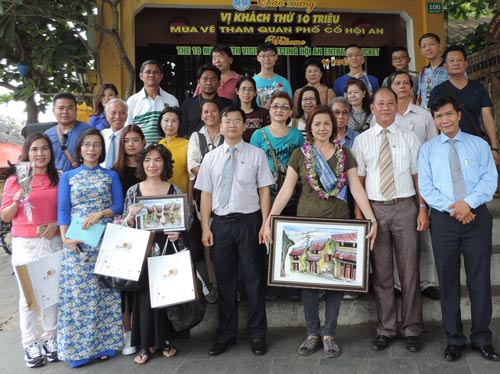 Nuntira Mekaroonkamol (three from the right) is the 10 millionth visitor to Hoi An

The local authorities has provided gifts to the 10 millionth visitor, Nuntira Mekaroonkamol from Thailand, at the Japanese Bridge with various shows.
The tourism company with the 10 millionth visitor and other lucky visitors will also be given gifts.
Hoi An Sports and Culture Centre said the town received nearly 1.6 million visitors last year, an increase of 34.14 compared to 2015. Hoi An was voted as one of 25 best destination on TripAdvisor website in early 2017.
This event is a positive sign for the town's sustainable tourism development plan and to help make Hoi An become one of the most favourite destinations for international tourists.
Hoi An was known as the busy international port during the 16th century. In order to boost tourism, historical buildings and cultural traditions have been restored and preserved.
According to Hoi An Sports and Culture Centre, they have improved the management over tour guides. Since 1995, they have received much support from the international organisations and firms as the revenues from ticket sales are used to preserve the town.