Hanoi seeking public opinion for zero-milestone construction
Hanoi authorities are gathering public opinion for the construction of a kilometre-zero milestone in Hoan Kiem District.
On Friday, the city opened an exhibition to display five works which were presented prizes at a contest to design the kilometre-zero landmark launched in May this year.
The event which will last until November 26 at Hoan Kiem District's Cultural Information Centre on Ly Thai To Street is aimed to get public feedback before being submitted to the Hanoi People's Committee for approval.
Visitors at the exhibition at Hoan Kiem District's Cultural Information Centre on Ly Thai To Street.


The project is expected to be a highlight of Hanoi and the whole country, and a place to lure visitors.

In July, Hanoi authorities and Vietnam Association of Architects announced the five best works selected from 105 entries of the kilometre-zero landmark contest.

The idea entitled Light Gate by Pham Trung Hieu, Pham Thai Binh, Vu Binh Minh, Pham Huy Dong and Nguyen Dang Hai from Hanoi won the first prize. The group uses light effects to create the milestone which is placed in front of Ly Thai To King Statue.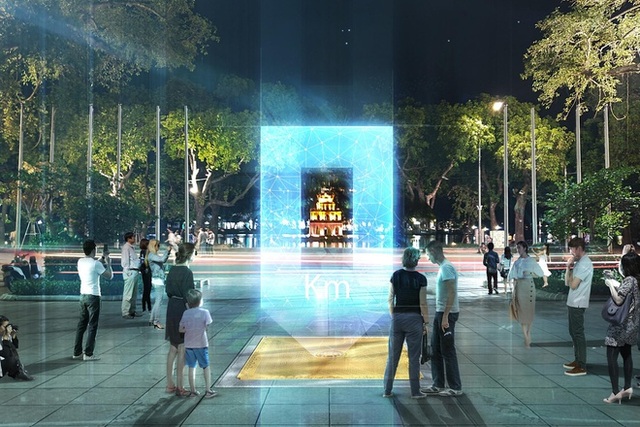 The idea entitled Light Gate won the first prize of the kilometre-zero landmark design contest.


Nguyen Huy Hoang from Da Nang won the second prize with the design to put the kilometre-zero landmark at Dinh Tien Hoang-Hang Khay intersection. This is the location where the Swiss flower clock is being situated.

The third prize went to Doan Thanh Ha from Hanoi with the idea to put the milestone on Hoan Kiem Lake.

Two other consolidation prizes were also presented at the contest.

According to Pham Tuan Long, chairman of Hoan Kiem District People's Committee, the project gives a new look for the areas around Hoan Kiem Lake, including paving with high-quality natural stone and the new embankment construction around the lake, which has been almost completed.