Vietnam's smallest student enjoys great changes at school
Four years after being taken to school, 10-year-old Dinh Van K'Re who is known as the smallest student in Vietnam has seen great changes in his life.

K'Re during a class. Photo by Vietnamnet
In 2013, Dang Van Cuong, the principal of Son Ba Primary Boarding School in remote mountainous Son Ha District in the central province of Quang Ngai met K'Re during a visit to a village of the Ho Re ethnic group.
The teacher saw tiny K'Re in a basket which his mother carried on her back. The boy was five years old but had only began to speak. He faced discrimination and only played at home alone.

The teacher encouraged the parents to raise him and promised to enroll him at school when he was seven.

In 2015, teacher Cuong returned and persuaded the boy's parents to send him to school. K'Re was seven but weighed just 3 kilos and measured just 50cm in height. He couldn't walk and speak properly.

In March 2016, K'Re's father brought him to Son Ba Primary Boarding School. He stayed at teacher Cuong's room and joined a first grade class. Living in a new environment, his health was weak.


The teacher brought K'Re to the National Paediatric Hospital in Hanoi and was told that the boy had Seckel Syndrome and could not grow normally. The boy's problem is said to be resulted from his parents being cousins, which is not rare among ethnic minority communities.

During the first days living far from home, K'Re was shy and afraid of everything.
To help him get used to the new environment, Cuong patiently spent time taking care and instructing him in the smallest things. He has also moved his office to the pupils' accommodation so he could better look after the boy.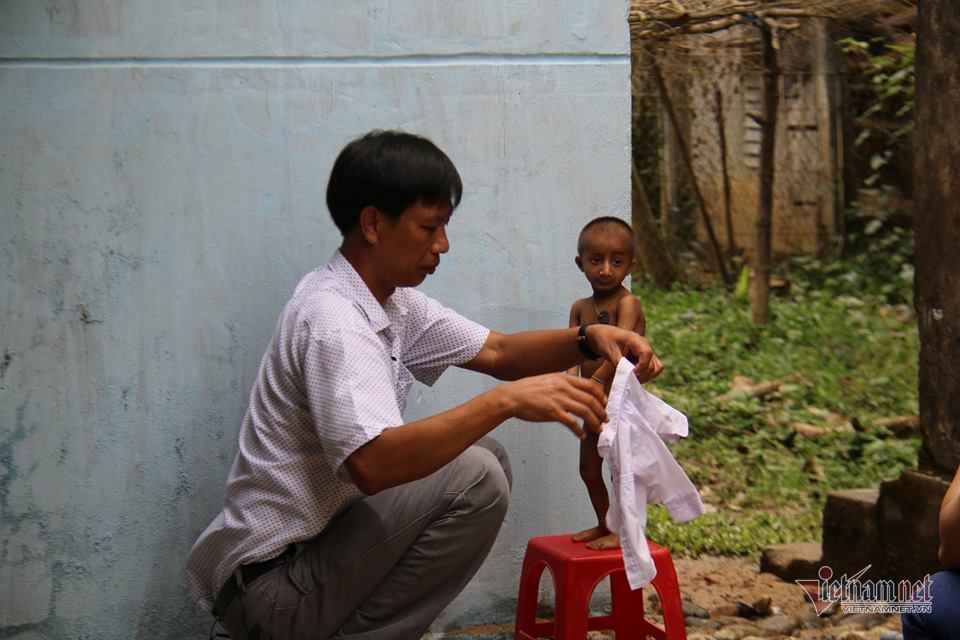 Teacher Cuong helps K'Re bath. Photo by Vietnamnet


After four years, the boy has integrated well with other classmates and made many improvements. From a shy boy, he has become happy, agile and more courageous, being able to write numbers on the blackboard and do some personal activities.

K'Re has also actively observed, listened and understood his surroundings, and therefore expressed his own opinions on being bullied or respond to the teacher's questions.

Cuong has also taken the little boy to his home every weekend as a member of his family.

"I consider him my own child. My wife and children also consider him a part of the family. Though he can't speak, he is very active and full of affection. My biggest wish and also that of other teachers is to provide him with life skills to integrate with other friends," the teacher said, boasting that K'Re had gained 200 grams every year.