Disabled boy's dream of going to school comes true
A 7-year-old boy in Quang Binh Province with paralysed limbs has finally realised his dream of going to school with other pupils.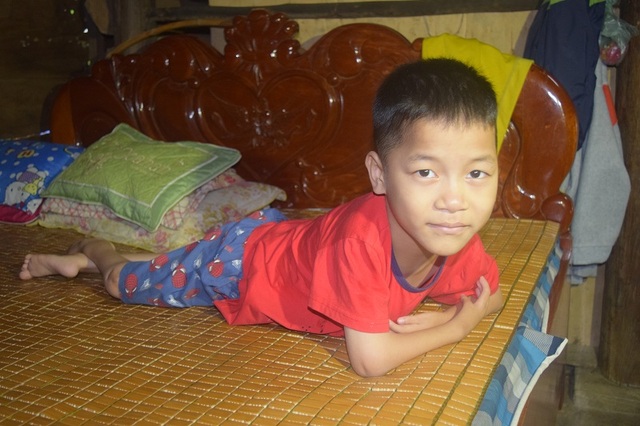 Nguyen The Phong


Nguyen The Phong was born with the disability. He can't walk or move his arms well.

"When I was pregnant with Phong, doctors said he would be disabled so I should give him up. But I couldn't. When he was born, his limbs were all curved up. He was diagnosed with congenital polyarthritis and motor cerebral palsy. We have brought him to several hospitals but it is no use," said Nguyen Thi Truc Phuong, Phong's mother.

Phong's father is a bricklayer and his mother stays home to take care of Phong and his two brothers. Despite being paralysed, Phong has always wanted to go to school but the school doesn't have the equipment and skills to treat disabled children.

Phong at school
At first, he holds the pen with his mouth and then puts it into his hand. Whenever he needs to write another line, he has to move his whole body. When the new school year started, Phong keeps asking his mother to let him go to school.

The chance came when his mother brought Phong's brother to school and accidentally saw the headmaster of Xuan Trach 1 Primary School nearby.

"He said Phong could go to school for a week to see if he was healthy enough to follow the class. After seeing that Phong is a quick and hard-working pupil, the school accepted him," Phuong said.

His parents then built a special bed-table to let Phong study at the end of the classroom.

Le Thi Hien Bich, Phong's teacher, said, "He is smart and hard-working. Both of the teachers and classmates have helped him to integrate with the class better."