99 teachers honoured for outstanding achievements
Deputy PM Truong Hoa Binh honoured 99 outstanding young teachers and lecturers from 43 provinces and cities on the 38th Vietnamese Teachers' Day.

Deputy PM Truong Hoa Binh
The Outstanding Teacher Award is an award by Ho Chi Minh Youth Union. This is the second year the award was held. Teachers and lecturers under 35 years old who have outstanding achievements in their line of work or major contributions to the society are honoured.

Binh offered congratulations for the teachers and lecturers on the occasion of Vietnamese Teachers' Day on November 20, from teachers with high achievements to those who volunteered to remote areas to bring education to poor children.

"Even at young ages, the teachers and lecturers have shown their hard work and kept on contributing to the country," he said. "I hope that you will continue to pursue education, improve yourselves and elevate our education sector. Each teacher should be a role model for their students and other people."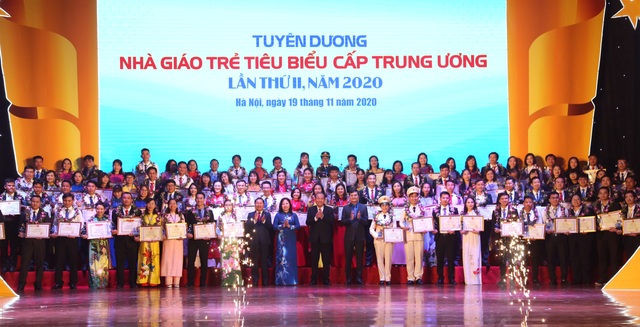 99 teachers honoured for outstanding achievements.
Dr Dao Viet Hang, a lecturer at Hanoi Medical University, had four articles published by international publications, 32 domestically-published articles and attended 25 international conferences. She also wrote a curriculum and two medical books.

Tran Thanh Bac is a lecturer at Dien Bien College with 90% of his students from ethnic minority groups. He wrote a book about the languages and cultures in Dien Bien Province and a book about advanced Vietnamese language learning. He was also given a certificate of merit by Ho Chi Minh Youth Union and Dien Bien Youth Union in 2018-2019 school year and 2019-2020 school year.

Among the honoured outstanding teachers and lecturers are Nguyen Thi Hang, a teacher at Son Thanh Tay Primary and Secondary School in Phu Yen Province. After graduating, she volunteered to work in the most remote mountainous commune in Phu Yen to help disadvantaged children. She also won the first prize during the provincial teaching contest 2019-2020 period.

Many of the teachers and lecturers have new ideas and methods to improve their teaching process.

The ceremony not only aims to honour the outstanding teachers but also to pay tribute to everyone in the education sector and those who want to be an educator.