US mission to Vietnam builds primary school in Ben Tre
US Defense Attaché in Hanoi Colonel TJ Bouchillon and Acting Deputy Principal Officer in Ho Chi Minh City Graham Harlow has transferred the newly built Trinh Viet Bang Primary School in Dinh Trung commune to the Ben Tre Provincial People's Committee.
The inauguration and handover ceremony of the school in Ben Tre Province on January 6
The project was jointly identified by the US Office of Defense Cooperation Vietnam and Ben Tre province in January 2019.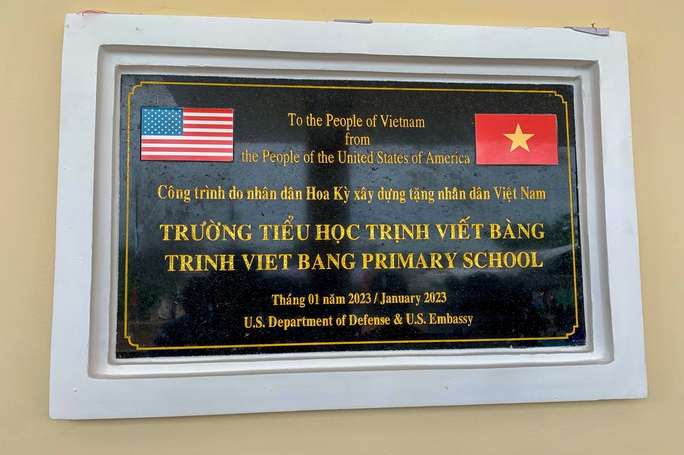 The new school includes eight fully furnished classrooms and two teacher's rooms as well as a handicap accessible ramp. The project was constructed and supported by the Chuong Duong Company, the New Horizon Company, the US Army Corps of Engineers, and the Ben Tre Provincial People's Committee. US Indo-Pacific Command under the Overseas Humanitarian Disaster Assistance and Civic Action Program funded the construction project.

At the transfer ceremony, US Defense Attaché Colonel TJ Bouchillon stated this "project reflects our commitment to a strong, prosperous, resilient, and independent Vietnam, and a free and open Indo-Pacific region. It underscores the common belief that a successful future lies with preparing the next generation to successfully tackle challenges they will face – whether local, national, or global."

Speaking at the ceremony, Vice Chairwoman of Ben Tre Provincial People's Committee Nguyen Thi Be Muoi acknowledged the support of the US Mission in Vietnam and the US Indo-Pacific Command. "This valuable assistance improves primary education facilities in Binh Dai district's Dinh Trung commune and helps send children to school which is a part of our local development strategy," she said.