Investigation to be launched into rare fish slaughtering for sale
The Ministry of Agriculture and Rural Development has urged local authorities in Thanh Hoa Province to investigate into the killing of a rare fish for sale.
The move came following the photos of the fish cut into pieces for sale in Sam Son City went viral on Facebook.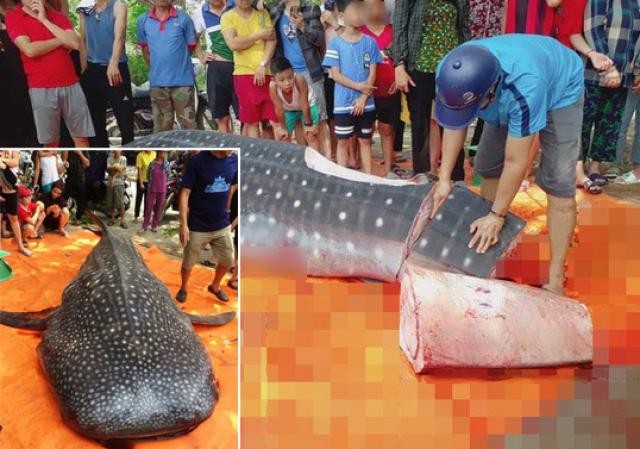 The photos about the fish posted on the social network
According to the initial information of the ministry's the Directorate of Fisheries, the fish would be the whale shark (Rhincodon typus) which is listed in Group 1of endangered species in the Vietnamese Law on Fisheries.
The International Union for Conservation of Nature also reported that Rhincodon typus is facing high risk of extinction.
The Directorate of Fisheries have requested Thanh Hoa authorities to investigate into the case and early report the result to the agency.
Under the Vietnamese government's Decree 26/2019/NDCP specifically regulating some articles of the Law on Fisheries, species in the Law on Fisheries' Group 1 are only allowed to be used for preservation and scientific purposes. Meanwhile, it is illegal to use them for other purposes.
Luong Tat Thang, chairman of Sam Son City previously admitted that the fish was around one tonne and killed for sale by local people. He, however, thought that it was not a rare species.