Quang Ngai beach faces serious erosion
One of the most beautiful beaches in the central province of Quang Ngai is facing serious erosion, affecting tourism services.


A beach in Quang Ngai is facing serious erosion
Two-kilometre long My Khe Beach in Tinh Khe Commune is a famous tourist attraction thanks to its white sandy beach. However, it has been eaten quickly over the past month. Many restaurants are now just some 10 metres from the water. Many trees have been washed away or are showing roots.

According to a local man, Pham Tham, the situation is worrying local people and discouraging visitors.

"The beach has never faced such bad erosion," he said. "In previous years, sands were also washed away in strong waves at this time of the year but the trees were still some 20-30 metres away from the eroded area. But this time many trees have been washed away. Erosion has built up a 2-metre tall sandbank."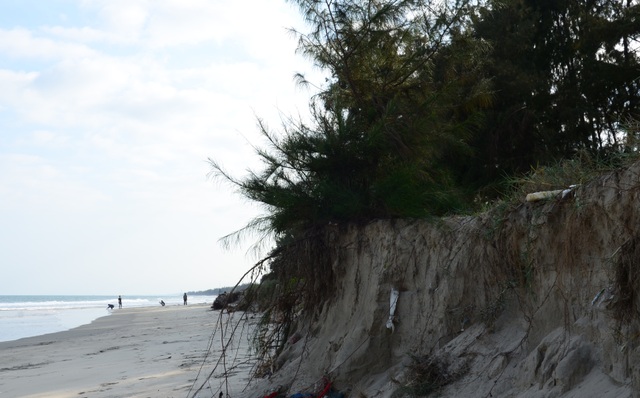 Tham said that many restaurants have to close during strong winds.

Deputy director of My Khe Tourist Site management board, Pham Thanh Tri said that the beach was very dangerous this year with deep water of about five metres.

"The situation is continuing and has greatly affected tourism activities in the area," Tri said. "The Quang Ngai City People's Committee is urgently exploring ways to deal with the situation."