Man loses six family members in Thanh Hoa flood
A man in Thanh Hoa Province is struggling to resettle life after losing six family members in a devastating flood which hit the mountainous district of Quan Son on August 3.

Ha Van Van returns to his home village on August 4


Just one day after leaving home for work in Thanh Hoa City, Ha Van Van was informed about his home in Na Sa Village being swept away by floods and landslides.
"I returned immediately and everything was gone," Van said in tears. "My house wasn't there, my parents, my younger sister, wife and two children were all gone with the floods."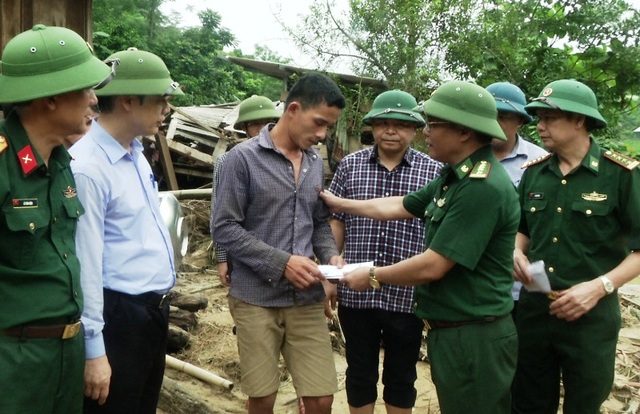 Local authorities give donation to Ha Van Van on August 5


Visiting Van at the house of his parents on August 5, his uncle Ha Van Tom who also lives in the village said that the floods came so quickly and everyone just had enough time to run away.
"In the early morning, Van's parents and younger sister came to his house to help his wife put away furniture when seeing rising river water," Tom recalled. "Then the floods suddenly came with huge landslides which swept away everything on their way. We all managed to run away. But dozens of people and more than 20 houses were swept away."

The 29-year-old man is now living at the house of his parents. Local authorities and people are trying to help him rebuild his life after these tragic losses.


A report from local authorities said that the devastating flood on the morning of August 3 swept away 24 houses and 14 people in Sa Na Village. Four have been rescued while 10 remained missing.
If you can help please donate through:

1. Code 3435: Ha Van Van, Sa Na Village, Na Meo Commune, Quan Son District, Thanh Hoa Province.

2. Dantri/DTiNews Online Newspaper

No. 2/48 Giang Vo Str., Dong Da Dist., Hanoi

Tel: 024. 3. 7366.491/ Fax: 024. 3. 7366.490
Email: nhanai@dantri.com.vn

* Vietnam Dong Account information at Vietcombank:

Account holder: Bao Dien tu Dan tri
Account number: 451000476889
With Bank: THE BANK FOR FOREIGN TRADE OF VIETNAM – Thanh Cong Branch

* US Dollar Account information at Vietcombank:

Account holder: Bao Dien tu Dan tri
Account number: 0451370477371
SWIFT Code: BFTV VNVX 045
With Bank: THE BANK FOR FOREIGN TRADE OF VIETNAM

* Vietnam Dong Account information at Vietinbank:

Account holder: Bao Dien tu Dan tri
Account number: 129 0000 61096
With Bank: Vietnam Joint Stock Commercial Bank for Industry and Trade – Hoan Kiem Branch

* Vietnam Dong Account information at BIDV
Account holder: Bao Dien tu Dan tri
Account number: 2611 000 3366 882
At: Bank for Investment and Development of Vietnam, Trang An Branch
Address: No. 11, Cua Bac Street, Ba Dinh District, Hanoi; Tel: 0436869656.

* USD Account information at BIDV
Account Name : Bao Dien tu Dan tri
Account Number : 2611 037 3366 886
Swift Code : BIDVVNVX261
Bank Name : Bank for Investment and Development of Vietnam JSC,Trang An Branch
Address : No 11 Cua Bac Str.,Ba Dinh Dist.,Hanoi, Vietnam; Tel: (84-4)3686 9656.

* Vietnam Dong Account information at MB Bank:
Account holder: Bao Dien tu Dan tri
Account number: 0721101010006
With Bank: MILITARY COMMERCIAL JOINT STOCK BANK - Thai Thinh Branch, Hanoi

* US Dollar Account information at MB Bank:
Account holder: Bao Dien tu Dan tri
Account number: 0721101011002
SWIFT Code: MSCBVNVX
With Bank: MILITARY COMMERCIAL JOINT STOCK BANK - MCSB (No.3, Lieu Giai str., Ba Dinh Dist., Hanoi, Vietnam)

* Vietnam Dong Account information at Agribank:
- Account holder: Bao Dien tu Dan tri
- Account number: 1400206034036
- At Agribank, Lang Ha Branch, Hanoi
3. Dantri/DTiNews' representative offices

Ha Tinh office: 46 Nguyen Cong Tru, Tan Giang Ward, Ha Tinh City, Tel: 0239.3.857.122
Da Nang office: 25 Nguyen Tri Phuong, Thanh Khe District, Da Nang City, Tel: 0236. 3653 725
HCM City: No. 294 - 296, Truong Sa Street, Ward 2, Phu Nhuan DIistrict, HCM City; Tel: 028. 3517 6331 (during working hours) or hotline 0974567567
Can Tho office: 53/13 Ly Tu Trong, Ninh Kieu District, Can Tho City, Tel: 0292.3.733.269