Post-Storm Wipha floods continue blighting Phu Quoc island
Hundreds of people on Phu Quoc Island are in need of financial support after serious floods hit the area.

A flooded home in Phu Quoc


Due to the effect of Storm Wipha, Kien Giang had heavy rains from August 2 to 5. The rainfall in Phu Quoc Island during this time was 501.2mm. On August 5, the heavy rains flooded many parts of Duong Dong Town. It has flooded many houses, forced some households to evacuate and disrupted the lives of hundreds of people.

When the rains stopped on August 6 and 7, the residents returned to their houses but it suddenly rained again the next day.

Ho Van Khuong, a resident in Duong Dong Town said, "The rainfall is reaching record levels. It's very hard to live here now so many people have gone to their relatives' houses. We can't go to work and depend on donated rice and instant noodles."

Le Thi Thanh Tuyen said she collected scrap for a living and the flood had made her unemployed.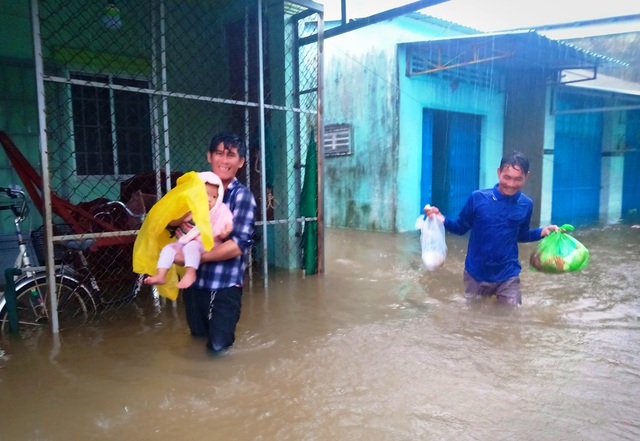 Many houses flooded


After being submerged in water for too long, the furniture and belongings showed signs of being damaged. Low-income workers that live in one-story rented houses are in the state of homelessness.

Doan Van Tien, chairman of Duong Dong Town, said, "The water hasn't receded completely so we can't analyse the damage. Initial statistics show that 3,000 houses were affected and 600 households need food support."


He went on to say that the authorities have used the town's budget and called for charity groups to help the locals. Starting from August 8, the volunteers of Duong Dong will provide meals to the affected households twice a day.
Doan Van Tien, chairman of Duong Dong Town, also called for donations via Dantri Newspaper. Tien said they were in need of 200 gifts that worth VND400,000 (USD17) each to buy rice, instant noodles, water and other necessities immediately.

If you can help them please donate through:
1. Code 3440: Dantri Online Newspaper/DTiNews

No. 2/48 Giang Vo Str., Dong Da Dist., Hanoi
Tel: 024. 3. 7366.491/ Fax: 024. 3. 7366.490

* Vietnam Dong Account information at Vietcombank:

Account holder: Bao Dien tu Dan tri
Account number: 451000476889
With Bank: THE BANK FOR FOREIGN TRADE OF VIETNAM – Thanh Cong Branch

* US Dollar Account information at Vietcombank:

Account holder: Bao Dien tu Dan tri
Account number: 0451370477371
SWIFT Code: BFTV VNVX 045
With Bank: THE BANK FOR FOREIGN TRADE OF VIETNAM

* Vietnam Dong Account information at Vietinbank:

Account holder: Bao Dien tu Dan tri
Account number: 129 0000 61096
With Bank: Vietnam Joint Stock Commercial Bank for Industry and Trade – Hoan Kiem Branch

* Vietnam Dong Account information at BIDV
Account holder: Bao Dien tu Dan tri
Account number: 2611 000 3366 882
At: Bank for Investment and Development of Vietnam, Trang An Branch
Address: No. 11, Cua Bac Street, Ba Dinh District, Hanoi; Tel: 0436869656.

* USD Account information at BIDV
Account Name : Bao Dien tu Dan tri
Account Number : 2611 037 3366 886
Swift Code : BIDVVNVX261
Bank Name : Bank for Investment and Development of Vietnam JSC,Trang An Branch
Address : No 11 Cua Bac Str.,Ba Dinh Dist.,Hanoi, Vietnam; Tel: (84-4)3686 9656.

* Vietnam Dong Account information at MB Bank:
Account holder: Bao Dien tu Dan tri
Account number: 0721101010006
With Bank: MILITARY COMMERCIAL JOINT STOCK BANK - Thai Thinh Branch, Hanoi

* US Dollar Account information at MB Bank:
Account holder: Bao Dien tu Dan tri
Account number: 0721101011002
SWIFT Code: MSCBVNVX
With Bank: MILITARY COMMERCIAL JOINT STOCK BANK - MCSB (No.3, Lieu Giai str., Ba Dinh Dist., Hanoi, Vietnam)

* Vietnam Dong Account information at Agribank:
- Account holder: Bao Dien tu Dan tri
- Account number: 1400206034036
- At Agribank, Lang Ha Branch, Hanoi
3. Dantri/DTiNews' representative offices

Ha Tinh office: 46 Nguyen Cong Tru, Tan Giang Ward, Ha Tinh City, Tel: 0239.3.857.122
Da Nang office: 25 Nguyen Tri Phuong, Thanh Khe District, Da Nang City, Tel: 0236. 3653 725
HCM City: No. 294 - 296, Truong Sa Street, Ward 2, Phu Nhuan DIistrict, HCM City; Tel: 028. 3517 6331 (during working hours) or hotline 0974567567
Can Tho office: 53/13 Ly Tu Trong, Ninh Kieu District, Can Tho City, Tel: 0292.3.733.269