Veteran desperately fights cancer while raising family
A war veteran in Phu Tho Province is in desperate need of financial support to treat cancer.

Vu Van Dung at home
65-year-old Vu Van Dung is living in a small house in Dong Luong Commune. He has been tortured by pain and has to depend on pain killers. Dung's mother is 90 years old with weak health while his wife has a foot disability.

After being discharged from the army, he became a worker at a cattle farm until the Doi Moi (Reform) period started. Both Dung and his wife depend on their rice fields to earn a living. In order to raise the family, they collected scrap. Three of their daughters dropped out before sixth grade and live in poverty.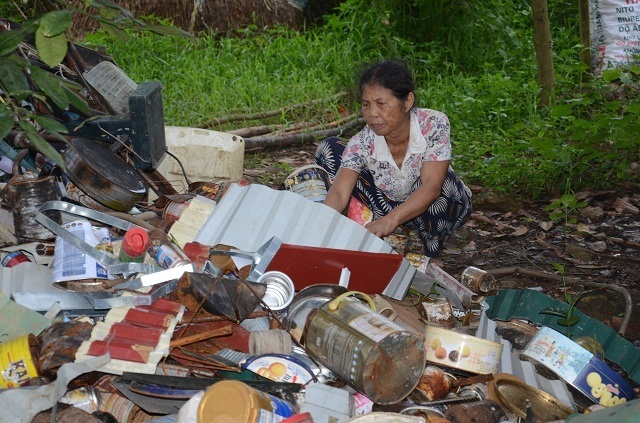 Tran Thi Viet collects scraps to earn money


Tran Thi Viet, Dung's wife, said, "Our only son is mentally ill and often has fits. When it is cold, he may have five to six fits a day. There are scratches on his face and his clothes are torn but I don't know what to do."

In 2018, Dung was diagnosed with stomach cancer and mitral valve problem. He had to undergo an operation to prolong his life.

Bui Quang Thuc, head of Van Thang Zone, said, "We have called for donations to help their family. But most of the households there are poor so we can't help them much. We hope they will get help from kind people."

If you can help them please donate through:
1. Code 3466: Vu Van Dung from Cluster 16 (Van Thang War Zone) Dong Luong Commune, Cam Khe District, Phu Tho Province.


2. Dantri/DTiNews

No. 2/48 Giang Vo Str., Dong Da Dist., Hanoi

Tel: 024. 3. 7366.491/ Fax: 024. 3. 7366.490
Email: nhanai@dantri.com.vn

* Vietnam Dong Account information at Vietcombank:

Account holder: Bao Dien tu Dan tri
Account number: 451000476889
With Bank: THE BANK FOR FOREIGN TRADE OF VIETNAM – Thanh Cong Branch

* US Dollar Account information at Vietcombank:

Account holder: Bao Dien tu Dan tri
Account number: 0451370477371
SWIFT Code: BFTV VNVX 045
With Bank: THE BANK FOR FOREIGN TRADE OF VIETNAM

* Vietnam Dong Account information at Vietinbank:

Account holder: Bao Dien tu Dan tri
Account number: 129 0000 61096
With Bank: Vietnam Joint Stock Commercial Bank for Industry and Trade – Hoan Kiem Branch

* Vietnam Dong Account information at BIDV
Account holder: Bao Dien tu Dan tri
Account number: 2611 000 3366 882
At: Bank for Investment and Development of Vietnam, Trang An Branch
Address: No. 11, Cua Bac Street, Ba Dinh District, Hanoi; Tel: 0436869656.

* USD Account information at BIDV
Account Name : Bao Dien tu Dan tri
Account Number : 2611 037 3366 886
Swift Code : BIDVVNVX261
Bank Name : Bank for Investment and Development of Vietnam JSC,Trang An Branch
Address : No 11 Cua Bac Str.,Ba Dinh Dist.,Hanoi, Vietnam; Tel: (84-4)3686 9656.

* Vietnam Dong Account information at MB Bank:
Account holder: Bao Dien tu Dan tri
Account number: 0721101010006
With Bank: MILITARY COMMERCIAL JOINT STOCK BANK - Thai Thinh Branch, Hanoi

* US Dollar Account information at MB Bank:
Account holder: Bao Dien tu Dan tri
Account number: 0721101011002
SWIFT Code: MSCBVNVX
With Bank: MILITARY COMMERCIAL JOINT STOCK BANK - MCSB (No.3, Lieu Giai str., Ba Dinh Dist., Hanoi, Vietnam)

* Vietnam Dong Account information at Agribank:
- Account holder: Bao Dien tu Dan tri
- Account number: 1400206034036
- At Agribank, Lang Ha Branch, Hanoi
3. Dantri/DTiNews' representative offices

Ha Tinh office: 46 Nguyen Cong Tru, Tan Giang Ward, Ha Tinh City, Tel: 0239.3.857.122
Da Nang office: 25 Nguyen Tri Phuong, Thanh Khe District, Da Nang City, Tel: 0236. 3653 725
HCM City: No. 294 - 296, Truong Sa Street, Ward 2, Phu Nhuan DIistrict, HCM City; Tel: 028. 3517 6331 (during working hours) or hotline 0974567567
Can Tho office: 53/13 Ly Tu Trong, Ninh Kieu District, Can Tho City, Tel: 0292.3.733.269