Cancer wife asks for help for ill husband
A woman struggling with cancer is calling for financial support to help save her husband from heart disease.

Tran Thi Hanh

The local authorities of Dong Bang Village have come to Hanoi Heart Hospital to call for help to the family of Tran Thi Hanh. Hanh's sister, Tran Thi Nhung, said Hanh went to work and got married in the southern region. After Hanh fell sick, she returned to the hometown with her husband and children since Hanh's parents-in-law died a long time ago.

Nhung said, "I work as a bricklayer so I don't have much money. I can only provide meals to Hanh's children. After her husband fell sick too, we have sold our cow and put up our house as collateral but we still lack VND100m (USD4,300)."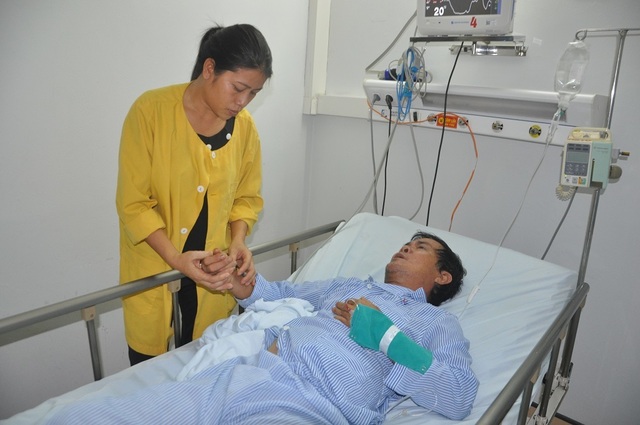 Hanh takes care of her husband at the hospital


When being diagnosed with thyroid cancer Hanh refused treatment due to lack of money. The situation got worse after her husband was admitted because of a heart attack. Hanh often skips lunch, sometimes even the breakfast and askes for charity dinners to save some money.

Dr Dao Xuan Dung said if Hanh's husband is not treated in time, he might die. He doesn't have health insurance so the operation will cost VND150m but the family cannot afford the surgery.

"As long as he can live, I can die in peace," Hanh said.

If you can help them please donate through:
1. Code 3473: Tran Thi Hanh from Trai Lat Hamlet, Dong Bang Village, Dong Thai Commune, Ba Vi District, Hanoi.

Tel: 033.7724.716

2. Dantri/DTiNews

No. 2/48 Giang Vo Str., Dong Da Dist., Hanoi

Tel: 024. 3. 7366.491/ Fax: 024. 3. 7366.490
Email: nhanai@dantri.com.vn

* Vietnam Dong Account information at Vietcombank:

Account holder: Bao Dien tu Dan tri
Account number: 451000476889
With Bank: THE BANK FOR FOREIGN TRADE OF VIETNAM – Thanh Cong Branch

* US Dollar Account information at Vietcombank:

Account holder: Bao Dien tu Dan tri
Account number: 0451370477371
SWIFT Code: BFTV VNVX 045
With Bank: THE BANK FOR FOREIGN TRADE OF VIETNAM

* Vietnam Dong Account information at Vietinbank:

Account holder: Bao Dien tu Dan tri
Account number: 129 0000 61096
With Bank: Vietnam Joint Stock Commercial Bank for Industry and Trade – Hoan Kiem Branch

* Vietnam Dong Account information at BIDV
Account holder: Bao Dien tu Dan tri
Account number: 2611 000 3366 882
At: Bank for Investment and Development of Vietnam, Trang An Branch
Address: No. 11, Cua Bac Street, Ba Dinh District, Hanoi; Tel: 0436869656.

* USD Account information at BIDV
Account Name : Bao Dien tu Dan tri
Account Number : 2611 037 3366 886
Swift Code : BIDVVNVX261
Bank Name : Bank for Investment and Development of Vietnam JSC,Trang An Branch
Address : No 11 Cua Bac Str.,Ba Dinh Dist.,Hanoi, Vietnam; Tel: (84-4)3686 9656.

* Vietnam Dong Account information at MB Bank:
Account holder: Bao Dien tu Dan tri
Account number: 0721101010006
With Bank: MILITARY COMMERCIAL JOINT STOCK BANK - Thai Thinh Branch, Hanoi

* US Dollar Account information at MB Bank:
Account holder: Bao Dien tu Dan tri
Account number: 0721101011002
SWIFT Code: MSCBVNVX
With Bank: MILITARY COMMERCIAL JOINT STOCK BANK - MCSB (No.3, Lieu Giai str., Ba Dinh Dist., Hanoi, Vietnam)

* Vietnam Dong Account information at Agribank:
- Account holder: Bao Dien tu Dan tri
- Account number: 1400206034036
- At Agribank, Lang Ha Branch, Hanoi
3. Dantri/DTiNews' representative offices

Ha Tinh office: 46 Nguyen Cong Tru, Tan Giang Ward, Ha Tinh City, Tel: 0239.3.857.122
Da Nang office: 25 Nguyen Tri Phuong, Thanh Khe District, Da Nang City, Tel: 0236. 3653 725
HCM City: No. 294 - 296, Truong Sa Street, Ward 2, Phu Nhuan DIistrict, HCM City; Tel: 028. 3517 6331 (during working hours) or hotline 0974567567
Can Tho office: 53/13 Ly Tu Trong, Ninh Kieu District, Can Tho City, Tel: 0292.3.733.269