Elderly mother struggles to take care of ill daughter
An elderly woman in Hai Duong Province is calling for financial support to help save her daughter from cancer.

Tran Thi Thi

55-year-old Tran Thi Thi and her 90-year-old mother live in a small house in Thai Tan Commune. Their meals only consist of white rice, vegetables and sesame seeds. When Thi couldn't eat, her mother often coaxed her to eat like when she was still small.

When Thi was still healthy, they can save some money to buy fish or meat but after Thi fell ill, they couldn't afford a proper meal.

Thi was weak even when she was still small. When she was 18 years old, she suddenly fainted and was admitted to hospital where she was diagnosed with congenital heart disease. Due to poverty, she didn't take any treatment and struggled to live.

In August, she coughed regularly, had breathing difficulties and nearly faint again. Doctors said she had lung cancer. They already borrowed money and sold everything they could but it was not enough.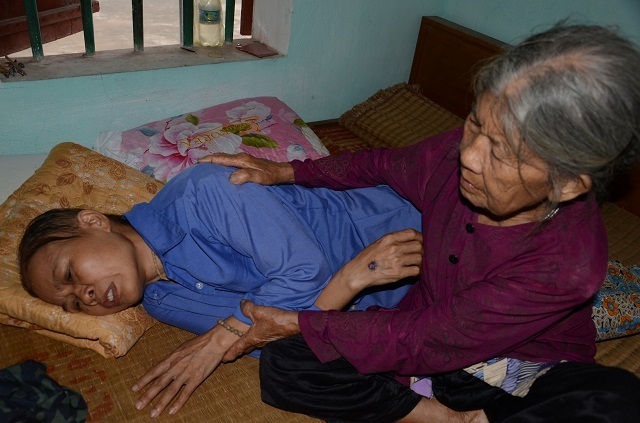 Tran Thi Thi and her mother

"I really didn't want to live anymore. I couldn't do anything to help my parents for my whole life. Now my old mother has to take care of me. It hurts," Thi said.

Vu Dinh Thanh, head of Mac Binh Village, said, "Thi is a special case in our village. We can only help them with some rice or vegetables. I hope they will get more help from the community."

"I only want to let her eat some meat so that she will be less painful when she goes to the hospital," said Xuan, Thi's mother.

If you can help them please donate through:

1. Code 3535: Tran Thi Thi from Cluster 11, Mac Binh Village, Thai Tan Commune, Nam Sach District, Hai Duong Province.

Tel: 0973034643

2. Dantri/DTiNews

No. 2/48 Giang Vo Str., Dong Da Dist., Hanoi

Tel: 024. 3. 7366.491/ Fax: 024. 3. 7366.490
Email: nhanai@dantri.com.vn

* Vietnam Dong Account information at Vietcombank:

Account holder: Bao Dien tu Dan tri
Account number: 451000476889
With Bank: THE BANK FOR FOREIGN TRADE OF VIETNAM – Thanh Cong Branch

* US Dollar Account information at Vietcombank:

Account holder: Bao Dien tu Dan tri
Account number: 0451370477371
SWIFT Code: BFTV VNVX 045
With Bank: THE BANK FOR FOREIGN TRADE OF VIETNAM

* Vietnam Dong Account information at Vietinbank:

Account holder: Bao Dien tu Dan tri
Account number: 129 0000 61096
With Bank: Vietnam Joint Stock Commercial Bank for Industry and Trade – Hoan Kiem Branch

* Vietnam Dong Account information at BIDV
Account holder: Bao Dien tu Dan tri
Account number: 2611 000 3366 882
At: Bank for Investment and Development of Vietnam, Trang An Branch
Address: No. 11, Cua Bac Street, Ba Dinh District, Hanoi; Tel: 0436869656.

* USD Account information at BIDV
Account Name : Bao Dien tu Dan tri
Account Number : 2611 037 3366 886
Swift Code : BIDVVNVX261
Bank Name : Bank for Investment and Development of Vietnam JSC,Trang An Branch
Address : No 11 Cua Bac Str.,Ba Dinh Dist.,Hanoi, Vietnam; Tel: (84-4)3686 9656.

* Vietnam Dong Account information at MB Bank:
Account holder: Bao Dien tu Dan tri
Account number: 0721101010006
With Bank: MILITARY COMMERCIAL JOINT STOCK BANK - Thai Thinh Branch, Hanoi

* US Dollar Account information at MB Bank:
Account holder: Bao Dien tu Dan tri
Account number: 0721101011002
SWIFT Code: MSCBVNVX
With Bank: MILITARY COMMERCIAL JOINT STOCK BANK - MCSB (No.3, Lieu Giai str., Ba Dinh Dist., Hanoi, Vietnam)

* Vietnam Dong Account information at Agribank:
- Account holder: Bao Dien tu Dan tri
- Account number: 1400206034036
- At Agribank, Lang Ha Branch, Hanoi
3. Dantri/DTiNews' representative offices

Ha Tinh office: 46 Nguyen Cong Tru, Tan Giang Ward, Ha Tinh City, Tel: 0239.3.857.122
Da Nang office: 25 Nguyen Tri Phuong, Thanh Khe District, Da Nang City, Tel: 0236. 3653 725
HCM City: No. 294 - 296, Truong Sa Street, Ward 2, Phu Nhuan DIistrict, HCM City; Tel: 028. 3517 6331 (during working hours) or hotline 0974567567
Can Tho office: 53/13 Ly Tu Trong, Ninh Kieu District, Can Tho City, Tel: 0292.3.733.269