Ill mother wishes better life for her children
A woman in Nam Dinh Province is in need of financial support to treat kidney problems and raise her little children.

Tong Thi Luan
Tong Thi Luan is from the Thai ethnic group. She is now being treated at Nam Dinh General Hospital for chronic kidney failure. Nurse Vu Trong Tuan said she needs regular blood dialysis and her condition is more dangerous and complicated than normal because of lupus.

Luan constantly feels nauseous and suffers from a vertigo problem, she can hardly walk. The bruises can be seen easily on her body after many falls. "I felt so worried and impatient after calling home and was told that my child cried because of hunger," Luan said.

Do Thi Nhan, Luan's mother-in-law, said Luan's father-in-law and her husband both have epilepsy. Both she and Luan have to shoulder the whole family after getting married. There was a time Luan's husband suddenly had a seizure when he was holding their child, making the whole family panicked.

"When his mind is clear, his love for our children is also very clear. I love my husband but I don't know what to do," Luan said.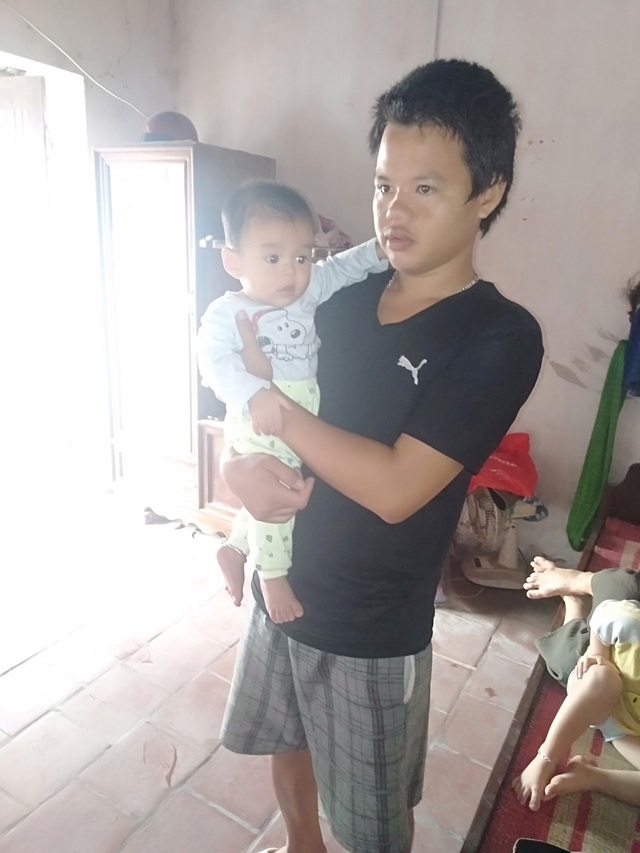 Luan's husband and their child


Luan has two children. The oldest is 6 years old and the youngest is only 9 months old. They both have to be sent to the relatives or neighbours' houses after Nhan goes to the hospital to take care of Luan.

Vu Thi Thom, one of their relative, said, "Their eldest daughter is a good girl and loves her mother. Their second cries a lot because breastfeeding was stopped so early and suddenly."

Luan wants to go home to her children but going home is a death sentence for her. She has three blood dialysis sessions a week and has to take many medicines to treat lupus.

"I just want my children to be healthy and be able to go to school," she said.

If you can help them please donate through:

1. Code 3587: Tong Thi Luan from Hamlet 2, Ton Thanh Village, Giao Thinh Commune, Giao Thuy District, Nam Dinh Province.

Tel: 0359381607

2. Dantri/DTiNews

No. 2/48 Giang Vo Str., Dong Da Dist., Hanoi

Tel: 024. 3. 7366.491/ Fax: 024. 3. 7366.490
Email: nhanai@dantri.com.vn

* Vietnam Dong Account information at Vietcombank:

Account holder: Bao Dien tu Dan tri
Account number: 451000476889
With Bank: THE BANK FOR FOREIGN TRADE OF VIETNAM – Thanh Cong Branch

* US Dollar Account information at Vietcombank:

Account holder: Bao Dien tu Dan tri
Account number: 0451370477371
SWIFT Code: BFTV VNVX 045
With Bank: THE BANK FOR FOREIGN TRADE OF VIETNAM

* Vietnam Dong Account information at Vietinbank:

Account holder: Bao Dien tu Dan tri
Account number: 129 0000 61096
With Bank: Vietnam Joint Stock Commercial Bank for Industry and Trade – Hoan Kiem Branch

* Vietnam Dong Account information at BIDV
Account holder: Bao Dien tu Dan tri
Account number: 2611 000 3366 882
At: Bank for Investment and Development of Vietnam, Trang An Branch
Address: No. 11, Cua Bac Street, Ba Dinh District, Hanoi; Tel: 0436869656.

* USD Account information at BIDV
Account Name : Bao Dien tu Dan tri
Account Number : 2611 037 3366 886
Swift Code : BIDVVNVX261
Bank Name : Bank for Investment and Development of Vietnam JSC,Trang An Branch
Address : No 11 Cua Bac Str.,Ba Dinh Dist.,Hanoi, Vietnam; Tel: (84-4)3686 9656.

* Vietnam Dong Account information at MB Bank:
Account holder: Bao Dien tu Dan tri
Account number: 0721101010006
With Bank: MILITARY COMMERCIAL JOINT STOCK BANK - Thai Thinh Branch, Hanoi

* US Dollar Account information at MB Bank:
Account holder: Bao Dien tu Dan tri
Account number: 0721101011002
SWIFT Code: MSCBVNVX
With Bank: MILITARY COMMERCIAL JOINT STOCK BANK - MCSB (No.3, Lieu Giai str., Ba Dinh Dist., Hanoi, Vietnam)

* Vietnam Dong Account information at Agribank:
- Account holder: Bao Dien tu Dan tri
- Account number: 1400206034036
- At Agribank, Lang Ha Branch, Hanoi
3. Dantri/DTiNews' representative offices

Ha Tinh office: 46 Nguyen Cong Tru, Tan Giang Ward, Ha Tinh City, Tel: 0239.3.857.122
Da Nang office: 25 Nguyen Tri Phuong, Thanh Khe District, Da Nang City, Tel: 0236. 3653 725
HCM City: No. 294 - 296, Truong Sa Street, Ward 2, Phu Nhuan DIistrict, HCM City; Tel: 028. 3517 6331 (during working hours) or hotline 0974567567
Can Tho office: 53/13 Ly Tu Trong, Ninh Kieu District, Can Tho City, Tel: 0292.3.733.269