Thai Binh man catches rats to support disabled brother and children
A family in Thai Binh Province is calling for financial help to support three small children and a disabled brother.
Nguyen Dinh Tinh's family lives in a small house with sparse furniture. Tinh has two siblings. After his father died at 57 years because of the Orange Agent, they were raised by their mother for years but their mother has died in April 2019 because of cancer. His youngest brother is in jail while his eldest brother is affected by the Orange Agent and paralysed since birth.

The family of Nguyen Dinh Tinh

Tinh is the only healthy child. He also got married and has three children. Due to the huge pressure to raise three children and the ill brother, Tinh and his wife often argued. His wife later returned to her parents' house and went to find work far away.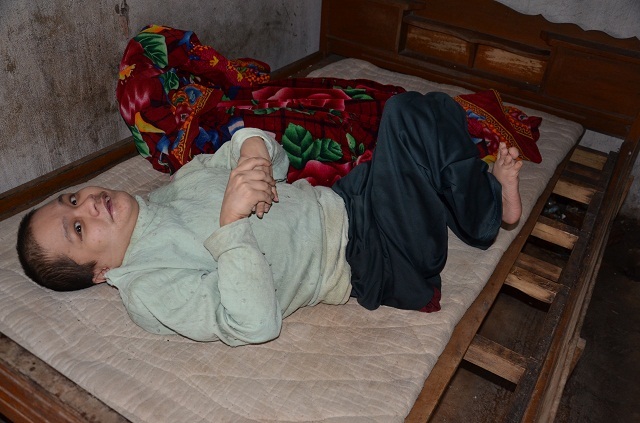 Nguyen Dinh Tinh's brother


The whole family depends on the VND1m (USD43) monthly allowance for victims of the Orange Agent and the caretaker. Tinh caught rice field rats for a meagre income.

"When I was lucky to catch some rats, I could buy more food for the family. It hurts me a lot when I see my children hungry for food," he said.

Nguyen Van Dat, head of Duong Xuan Village, said, "We really feel for them. The neighbours can only help them with some snacks and small money. I hope they will get more help from the community."

The meals for five people usually consist of a pot of corn soup, vegetables and two pieces of tofu. Tinh said usually, they only have vegetables which they grow in their backyard. The tofu was given by their neighbours and only enough for Tinh's brother and two youngest children.

If you can help them please donate through:

1. Code 3612: Nguyen Dinh Tinh from Duong Xuan Village, Thai Hung Commune, Hung Ha District, Thai Binh Province.

Tel 0985983992

2. Dantri/DTiNews

No. 2/48 Giang Vo Str., Dong Da Dist., Hanoi

Tel: 024. 3. 7366.491/ Fax: 024. 3. 7366.490
Email: nhanai@dantri.com.vn

* Vietnam Dong Account information at Vietcombank:

Account holder: Bao Dien tu Dan tri
Account number: 451000476889
With Bank: THE BANK FOR FOREIGN TRADE OF VIETNAM – Thanh Cong Branch

* US Dollar Account information at Vietcombank:

Account holder: Bao Dien tu Dan tri
Account number: 0451370477371
SWIFT Code: BFTV VNVX 045
With Bank: THE BANK FOR FOREIGN TRADE OF VIETNAM

* Vietnam Dong Account information at Vietinbank:

Account holder: Bao Dien tu Dan tri
Account number: 129 0000 61096
With Bank: Vietnam Joint Stock Commercial Bank for Industry and Trade – Hoan Kiem Branch

* Vietnam Dong Account information at BIDV
Account holder: Bao Dien tu Dan tri
Account number: 2611 000 3366 882
At: Bank for Investment and Development of Vietnam, Trang An Branch
Address: No. 11, Cua Bac Street, Ba Dinh District, Hanoi; Tel: 0436869656.

* USD Account information at BIDV
Account Name : Bao Dien tu Dan tri
Account Number : 2611 037 3366 886
Swift Code : BIDVVNVX261
Bank Name : Bank for Investment and Development of Vietnam JSC,Trang An Branch
Address : No 11 Cua Bac Str.,Ba Dinh Dist.,Hanoi, Vietnam; Tel: (84-4)3686 9656.

* Vietnam Dong Account information at MB Bank:
Account holder: Bao Dien tu Dan tri
Account number: 0721101010006
With Bank: MILITARY COMMERCIAL JOINT STOCK BANK - Thai Thinh Branch, Hanoi

* US Dollar Account information at MB Bank:
Account holder: Bao Dien tu Dan tri
Account number: 0721101011002
SWIFT Code: MSCBVNVX
With Bank: MILITARY COMMERCIAL JOINT STOCK BANK - MCSB (No.3, Lieu Giai str., Ba Dinh Dist., Hanoi, Vietnam)

* Vietnam Dong Account information at Agribank:
- Account holder: Bao Dien tu Dan tri
- Account number: 1400206034036
- At Agribank, Lang Ha Branch, Hanoi
3. Dantri/DTiNews' representative offices

Ha Tinh office: 46 Nguyen Cong Tru, Tan Giang Ward, Ha Tinh City, Tel: 0239.3.857.122
Da Nang office: 25 Nguyen Tri Phuong, Thanh Khe District, Da Nang City, Tel: 0236. 3653 725
HCM City: No. 294 - 296, Truong Sa Street, Ward 2, Phu Nhuan DIistrict, HCM City; Tel: 028. 3517 6331 (during working hours) or hotline 0974567567
Can Tho office: 53/13 Ly Tu Trong, Ninh Kieu District, Can Tho City, Tel: 0292.3.733.269