Readers help Dak Lak girl restore vision
A girl in Dak Lak Province has received hundreds of millions of VND from kind Dantri readers to treat her eyes.

Tuyen receives the donation

Vo Thi Kim Tuyen is an 8th grader at Nguyen Trai Secondary School. Her vision got weaker when she was in 7th grade. After going to doctors, she was diagnosed with corneal degeneration which needs long and expensive treatment or else she will go blind.

She often has to take a leave from school to go to the hospital. Each trip to HCM City costs VND3m (USD129) to VND6m.

After her parents divorced when she was two years old, Tuyen went to live with her grandparents. Their lives depend on the fields but the crops have been less than desired in the past years. After taking many medicines for treatment, Tuyen's kidney swelled up so her whole body also swelled up.

"I'm really scared. If I'm blind, my grandparents will be in even more difficulties. I want to be healthy to go to school," she said.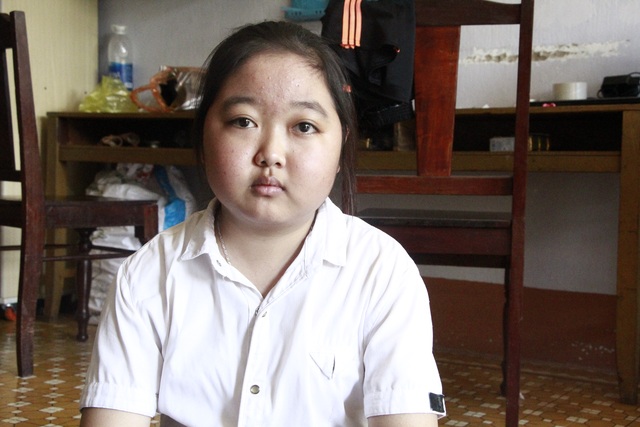 Tuyen suffers from corneal degeneration

Tran Van Diem, deputy head of Nguyen Trai Secondary School, said, "Tuyen is really strong. Despite the illness, she still completed all of her homework. The school has raised funds for her but the money is not enough."

After her story was published, Dantri readers donated VND197,370,000 (USD8,500) to Tuyen. On February 12, Dantri representative and leaders of Dak Lak Department of Education and Training continued to transfer VND23,370,000 to Tuyen.

Do Tuong Hiep, deputy head of the Department of Education and Training, said, "This is a meaning gift to Tuyen in such a difficult time. On behalf of the department, I want to thank Dantri and everyone that helped her overcome difficulties."

Tran Thi Nga, Tuyen's grandmother, said they had never thought of holding such huge money. "I'm really happy. I don't know what to say but thank you. I'll deposit this money to treat Tuyen," she said.

Nga and Tuyen will go to HCM City for another check-up. Tuyen said she appreciated every help she received.

"It eats me seeing my old grandparents struggling to borrow money for me. With your help, my grandparents will be less burdened too," she said.