Couple calls for help to save son from imminent death
A couple in Thanh Hoa Province is in desperate need of financial support to cover hospital fees for their 7-year-old son.

Nguyen Tien Minh


Le Thi Hien is often afraid that if she sleeps too deeply her son, Nguyen Tien Minh, could die without her realising. Minh has been released from the hospital for a short time.

"I was really happy when I knew that I can go home and go to school. But I had a fever again. I'm afraid of dying," he said.

According to Hien, Minh loves going to school but sometimes, he fainted at the class. Hien and her husband tried very hard to have Minh. But at five months old, Minh started having pneumonia then blood infection. Despite the treatment, his condition didn't get any better and the fever became worse.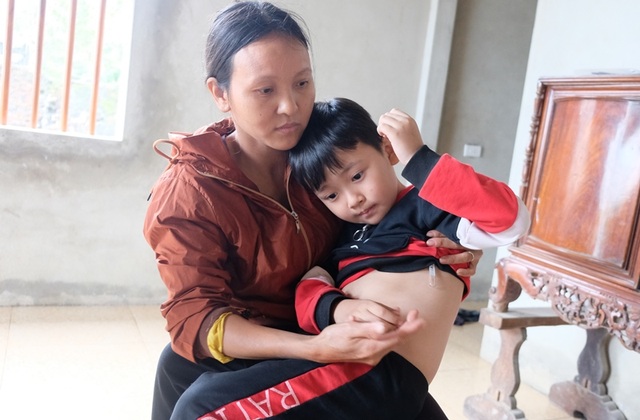 Le Thi Hien and Nguyen Tien Minh


When Minh was three years old, his condition got so bad that he needed a ventilator and was admitted to the National Children Hospital. The tests show that he had congenital immunodeficiency and low white blood cell count.

"My father-in-law served in the war and was affected by the Orange Agent. One of his children died at a small age, one is sick all year round and the rest do not have children," Hien said.

Doctors said Hien and her husband couldn't have children anymore. They have used everything they have to pay for Minh's treatment but there's nothing left to pay for his bone marrow transplant. They have borrowed over VND300m up until now and the future is still bleak.

"He needs the transplant by the end of this year or else he will die. I'll sell the house but it's still not enough," she said.

If you can help please donate through:

1. Code 3676: Nguyen Van Hung, Minh's father, from Trinh Loc Village, Hoang Giang Commune, Hoang Hoa District, Thanh Hoa Province.

Tel: 0976.476.908

2. Dantri/DTiNews

No. 2/48 Giang Vo Str., Dong Da Dist., Hanoi

Tel: 024. 3. 7366.491/ Fax: 024. 3. 7366.490
Email: nhanai@dantri.com.vn

* Vietnam Dong Account information at Vietcombank:

Account holder: Bao Dien tu Dan tri
Account number: 451000476889
With Bank: THE BANK FOR FOREIGN TRADE OF VIETNAM – Thanh Cong Branch

* US Dollar Account information at Vietcombank:

Account holder: Bao Dien tu Dan tri
Account number: 0451370477371
SWIFT Code: BFTV VNVX 045
With Bank: THE BANK FOR FOREIGN TRADE OF VIETNAM

* Vietnam Dong Account information at Vietinbank:

Account holder: Bao Dien tu Dan tri
Account number: 129 0000 61096
With Bank: Vietnam Joint Stock Commercial Bank for Industry and Trade – Hoan Kiem Branch

* Vietnam Dong Account information at BIDV
Account holder: Bao Dien tu Dan tri
Account number: 2611 000 3366 882
At: Bank for Investment and Development of Vietnam, Trang An Branch
Address: No. 11, Cua Bac Street, Ba Dinh District, Hanoi; Tel: 0436869656.

* USD Account information at BIDV
Account Name : Bao Dien tu Dan tri
Account Number : 2611 037 3366 886
Swift Code : BIDVVNVX261
Bank Name : Bank for Investment and Development of Vietnam JSC,Trang An Branch
Address : No 11 Cua Bac Str.,Ba Dinh Dist.,Hanoi, Vietnam; Tel: (84-4)3686 9656.

* Vietnam Dong Account information at MB Bank:
Account holder: Bao Dien tu Dan tri
Account number: 0721101010006
With Bank: MILITARY COMMERCIAL JOINT STOCK BANK - Thai Thinh Branch, Hanoi

* US Dollar Account information at MB Bank:
Account holder: Bao Dien tu Dan tri
Account number: 0721101011002
SWIFT Code: MSCBVNVX
With Bank: MILITARY COMMERCIAL JOINT STOCK BANK - MCSB (No.3, Lieu Giai str., Ba Dinh Dist., Hanoi, Vietnam)

* Vietnam Dong Account information at Agribank:
- Account holder: Bao Dien tu Dan tri
- Account number: 1400206034036
- At Agribank, Lang Ha Branch, Hanoi
3. Dantri/DTiNews' representative offices

Ha Tinh office: 46 Nguyen Cong Tru, Tan Giang Ward, Ha Tinh City, Tel: 0239.3.857.122
Da Nang office: 25 Nguyen Tri Phuong, Thanh Khe District, Da Nang City, Tel: 0236. 3653 725
HCM City: No. 294 - 296, Truong Sa Street, Ward 2, Phu Nhuan DIistrict, HCM City; Tel: 028. 3517 6331 (during working hours) or hotline 0974567567
Can Tho office: 53/13 Ly Tu Trong, Ninh Kieu District, Can Tho City, Tel: 0292.3.733.269