Readers donate to help young woman overcome kidney failure
Dantri/DTiNews readers have donated over VND2bn (USD87,000) to a young woman from Nghe An Province to help her with the kidney transplant fees.

Tran Thi Linh
19-year-old Tran Thi Linh is being treated at Vietnam-Germany Hospital for polycystic kidney disease and kidney failure. Moreover, the tumour inside the kidney has grown too large now, causing infection and must be removed.

Nguyen Thi Tu, Linh's mother, said when Linh fainted when she was at 9th grade. They had to hastily sell the harvested rice in order to have quick money to bring her to the hospital. Tu was told that Linh may need kidney dialysis for life.

Since then, Linh has stayed at the hospital more than at home. Recently, Linh suddenly had a high fever at home, her mother had to borrow money to take her back to the hospital. Tu said they had five children together so they are struggling. They have borrowed from everywhere they can think of and haven't been able to repay the debts.

The doctors said the kidney transplant can start once Linh's fever ends. Tu also wants to give Linh one of her kidneys, however, the operation costs more than VND300m (USD13,000) and they can't afford it.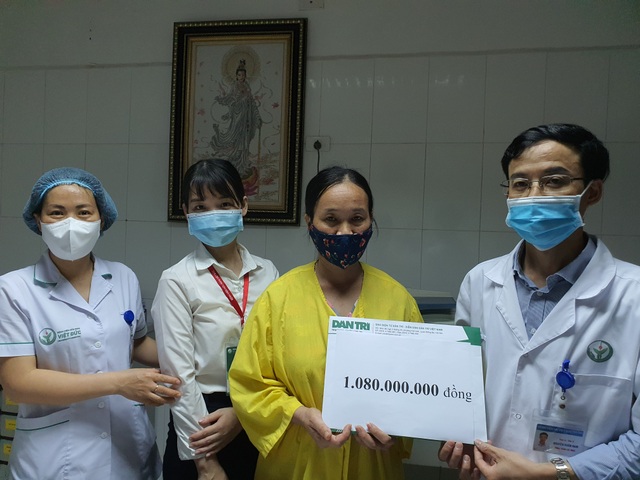 Linh's family receive the donation


After her story was published, she received huge encouragement and support from other people. Some people visited and gave her books while others called and sang for her on the phone every day.

Dr Nguyen Xuan Nam said, "Her infection has been controlled and the fever is gone. She will be discharged and rest at home for a month. Since she has hepatitis C, we'll have to assess her health for three months to see if she can have a kidney transplant."

Linh said she was happy to be able to go home. She said, "It's been two months. I miss my parents and siblings a lot."

On May 5, representatives of Dantri and the doctors at Vietnam-Germany Hospital transferred VND1,080,000,000 donation (USD46,000). Moreover, many people have directly donated nearly VND500m to Linh. Tu, Linh's mother said people also donated VND450m into her account. Three anonymous people promised to pay for all costs of kidney transplant surgery.

Tu said they would spend VND450m (USD19,000) to help 14 other patients at the hospital.

Nguyen Ha Phuong from Vietnam-Germany Hospital's Social Office said, "We really appreciate and are moved by the kindness of Dantri readers and Linh's family."