New Dantri classrooms opened in Son La
The inauguration ceremony of the new Dantri classrooms at Binh Minh Nursery School Site in the northern mountainous province of Son La has was held with Dantri representative and Nam Un Village authorities on June 12.

Lo Chung Thuy, party secretary of Chieng Dong Commune speaks at the ceremony


Lo Chung Thuy, party secretary of Chieng Dong Commune, said the classrooms would definitely improve the education in Chieng Dong. "We are very moved that despite the distance and weather, Dantri's representative and donors and Viet Hung Urban Primary School have come here and shared their love for the ethnic children," he said.

Dozens of households and children in Nam Un Village also attended the ceremony. The project includes three classrooms, a staff room, toilet and a playground. Dantri readers donated VND100m (USD4,300) and Viet Hung Urban Primary School donated VND100m. The classrooms are built on a 350-square-metre land donated by the villagers in Nam Un.

The new classroom


Lo Van Sum, party secretary of Nam Un Village, said, "Thanks to the readers that the children now have proper classrooms. I want to express my deepest gratitude to everyone that helped."

Khuat Thi Thanh, director of Binh Minh Nursery School, said they have 13 school sites with over 500 children. However, only five school sites have sturdy classrooms, in which Nam Un site with 30 children had the most dilapidated classrooms. When it rains, the mud and rain would get inside and the classrooms looked even more fragile. It couldn't keep out the winds during the winter so teachers and children had to find ways to keep warm first.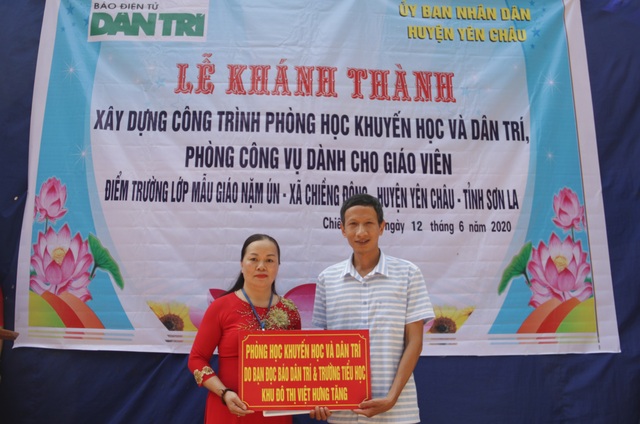 Can Manh Cuong, sub-editor assistant of Dantri (R) transfers the classrooms to the school
Can Manh Cuong, sub-editor assistant of Dantri, said, "It moves me when everyone in the village donated hundreds of square metres of land to build the classrooms for the children. I hope that the classrooms will bring joy to the village and be a launchpad for the children's dreams. We are honoured to be able to contribute to the local education promotion programme."

At the ceremony, readers Vu Thi Hai and Au Van Dung from Hanoi gave 26 backpacks, 260kg of rice and 10 cartons of milk to the children and donated VND2m to Binh Minh Nursery School.