Husband calls for help for ill son and wife
A man in Can Tho Province is calling for financial support to help treat his wife who is suffering from cancer.

Le Van Thanh (L) and his family

Le Van Thanh opened a small repair shop along Bui Huu Nghia Street, Can Tho City. However, he had to close the shop in order to have time taking care of his ill wife and two children. One of their children has Down Syndrome. She is 8 years old now but still can't talk. Their second son is only five years old.

In June 2018, Thanh's wife was diagnosed with uterine cancer. They spent all money they had and borrowed VND200m to pay for treatment and support the children.

Thanh was carrying his children to school when they had a traffic accident. His son cracked skull and had to be admitted to hospital.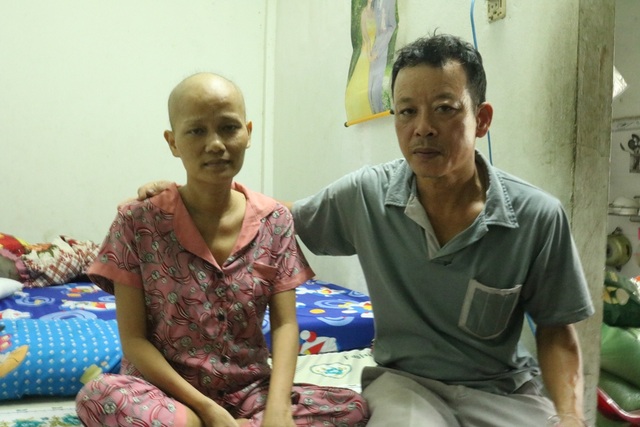 Le Van Thanh and his wife (R to L)
"I have to close the shop to look after my wife and son in the hospital and my daughter at home. I have lost many customers," Thanh said. "I usually stay at the hospital for 15 days with my wife. She is getting a bit better now but we are running out of money."

Thanh's wife, Nguyen Thi Ngoc Thanh, said, "Everything is on my husband now. I hope kind people will help us so that I can return to work and take care of my family again."

Nguyen Van Noi, head of Residential Area 6 in Binh Thuy Ward and Tran Cong Binh, chairman of Binh Thuy People's Committee all said Thanh's family is one of the difficult cases in the area that is desperately in need of help from the community.

If you can help please donate through:

1. Code 3782: Nguyen Thi Ngoc Thanh from 505 Bui Huu Nghia Street, Binh Thuy Ward, Binh Thuy District, Can Tho City.

Tel: 0975592269

2. Dantri/DTiNews

No. 2/48 Giang Vo Str., Dong Da Dist., Hanoi

Tel: 024. 3. 7366.491/ Fax: 024. 3. 7366.490
Email: nhanai@dantri.com.vn

* Vietnam Dong Account information at Vietcombank:

Account holder: Bao Dien tu Dan tri
Account number: 451000476889
With Bank: THE BANK FOR FOREIGN TRADE OF VIETNAM – Thanh Cong Branch

* US Dollar Account information at Vietcombank:

Account holder: Bao Dien tu Dan tri
Account number: 0451370477371
SWIFT Code: BFTV VNVX 045
With Bank: THE BANK FOR FOREIGN TRADE OF VIETNAM

* Vietnam Dong Account information at Vietinbank:

Account holder: Bao Dien tu Dan tri
Account number: 129 0000 61096
With Bank: Vietnam Joint Stock Commercial Bank for Industry and Trade – Hoan Kiem Branch

* Vietnam Dong Account information at BIDV
Account holder: Bao Dien tu Dan tri
Account number: 2611 000 3366 882
At: Bank for Investment and Development of Vietnam, Trang An Branch
Address: No. 11, Cua Bac Street, Ba Dinh District, Hanoi; Tel: 0436869656.

* USD Account information at BIDV
Account Name : Bao Dien tu Dan tri
Account Number : 2611 037 3366 886
Swift Code : BIDVVNVX261
Bank Name : Bank for Investment and Development of Vietnam JSC,Trang An Branch
Address : No 11 Cua Bac Str.,Ba Dinh Dist.,Hanoi, Vietnam; Tel: (84-4)3686 9656.

* Vietnam Dong Account information at MB Bank:
Account holder: Bao Dien tu Dan tri
Account number: 0721101010006
With Bank: MILITARY COMMERCIAL JOINT STOCK BANK - Thai Thinh Branch, Hanoi

* US Dollar Account information at MB Bank:
Account holder: Bao Dien tu Dan tri
Account number: 0721101011002
SWIFT Code: MSCBVNVX
With Bank: MILITARY COMMERCIAL JOINT STOCK BANK - MCSB (No.3, Lieu Giai str., Ba Dinh Dist., Hanoi, Vietnam)

* Vietnam Dong Account information at Agribank:
- Account holder: Bao Dien tu Dan tri
- Account number: 1400206034036
- At Agribank, Lang Ha Branch, Hanoi
3. Dantri/DTiNews' representative offices

Ha Tinh office: 46 Nguyen Cong Tru, Tan Giang Ward, Ha Tinh City, Tel: 0239.3.857.122
Da Nang office: 25 Nguyen Tri Phuong, Thanh Khe District, Da Nang City, Tel: 0236. 3653 725
HCM City: No. 294 - 296, Truong Sa Street, Ward 2, Phu Nhuan DIistrict, HCM City; Tel: 028. 3517 6331 (during working hours) or hotline 0974567567
Can Tho office: 53/13 Ly Tu Trong, Ninh Kieu District, Can Tho City, Tel: 0292.3.733.269