Shoeshine boy has better life after receiving support
A teenage shoeshine boy has been saved from heart disease and grown up to become a good bartender in Hanoi.
Nguyen Van Sao who was saved from heart disease thanks to financial support from the community 11 years ago now works as a bartender in Hanoi.
11 years ago, a Dantri/DTiNews reporter saw 16-year-old Nguyen Van Sao working as a shoeshine boy on the corner of Quang Trung and Ly Thuong Kiet streets in Hanoi. His regular customers came from nearby coffee shops. However Sao said that many people thought he must be a drug addict due to his pale skin and thin body and they were often reluctant to let him polish their shoes. This truly limited his chances to earn money to pay for treatments that could cure his heart disease, making it difficult for his dire needs to be met.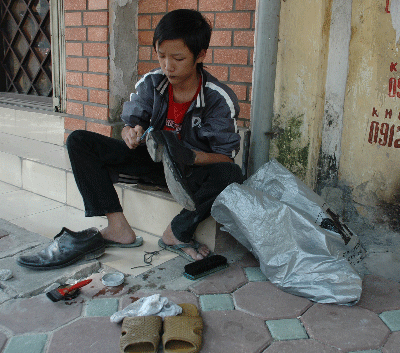 Sao as a shoeshine boy 11 years ago.

Sao told his story which was then shared on Dantri/DTiNews Newspaper. His parents had divorced and he lived with his elderly grandmother in the mountainous province of Lao Cai. He ended school after finishing secondary level and left his poor grandmother for Hanoi to seek a job and earn money to treat his heart disease. Sao said people who know him often called him "Tim" for his heart disease (Tim means heart in Vietnamese). He reminisced on the terrible day when his parents took him to the hospital where he was diagnosed with the disease. The doctor informed him that he was suffering from stenosed heart valves. He was having difficulties breathing and had asked his parents to take him to the hospital for treatment but they could not do anything to help him as they did not have any money.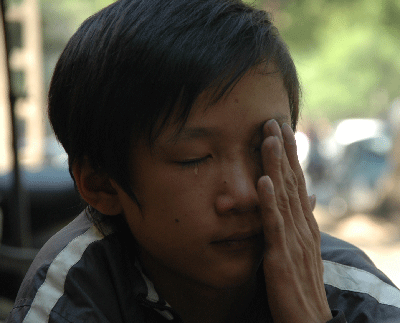 "My chest hurt so bad I burst into tears, but my parents just simply could not help me," he recalled. "My parents often quarreled and fought with each other, eventually they got divorced and left us. I was sent to live with my grandmother while my elder brother left home to try and earn a living. My grandmother loved me a lot but she was very poor and could not afford the treatment for my heart disease."

Arriving in Hanoi, Sao worked as a shoeshine boy but his health started to worsen. He felt very weak and was grasping for breath. Many people did not know about his heart disease and assumed that he was addicted to drugs. They did not want to allow him the opportunity to polish their shoes because they worried he would just spend the money on drugs. Others, who knew of his situation and the disease he was suffering from, loved him a lot and would often ask him to polish shoes and sometimes even gave him extra money or meals. With the little money he earned every day, he would spend it on essentials and try to save the rest to visit his grandmother, leaving his heart disease treatment virtually impossible.

After his circumstances were reported, Sao has received an abundance of support from compassionate readers. Thanks to donations from the community, he had surgery that saved him from heart disease and built a house for his family in his hometown where his parents have reunited.

The teenage shoeshine boy has now grown up to a 27-year-old bartender in Hanoi. He said that although he could not have as good health as normal people, he enjoyed his life and has a good job.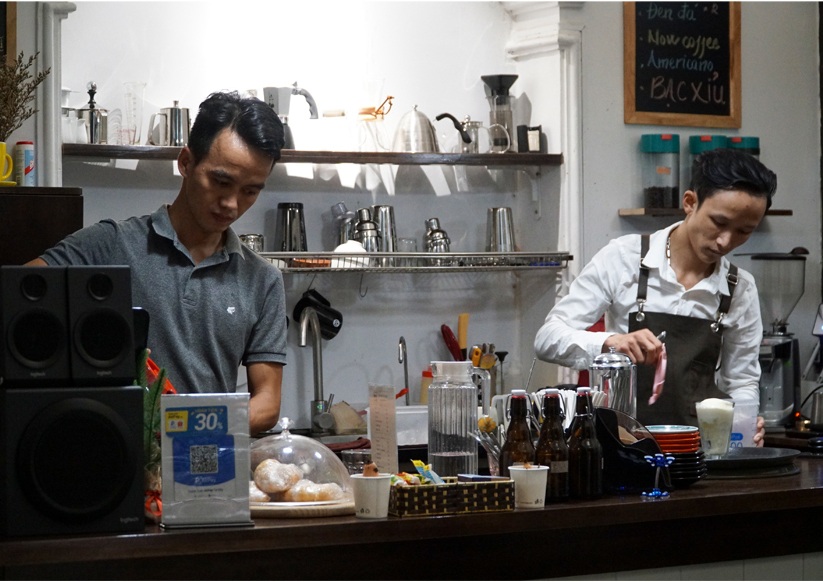 "I owe this to kind donors and readers of Dantri/DTiNews Online Newspaper," Sao said. "Without their support, I might not have survived the heart disease that year. I would try my best to live a meaningful life."