Dantri donates VND20m to help heart disease patient
Dantri/DTiNews has donated VND20m (USD860) to help a man from Thanh Hoa Province who is in need of help to take heart surgery.

Dantri/DTiNews donated VND20m (USD860) to Thanh's family.
Nguyen Quang Thanh said his daughter has a hand deformity at birth so he had always worked hard in order to give her an artificial hand. However, they incurred huge debts after his wife had a uterus problem. Thanh is also suffering from heart failure and dilated cardiomyopathy so he needs a heart transplant.

There were times he was unable to breathe and collapsed. The neighbours had to take him to the hospital but he always asked to go home afterwards because of the lack of money. The burdens then fall on his wife, Nguyen Thi Nhu.

"My wife is a factory labourer and earns VND4m (USD171) a month. Half of the money is spent on my medicines. It should be used for our children," he said.

Their eldest child is 13 years old and the youngest is only two years old. They are also taking care of their 74-year-old mother.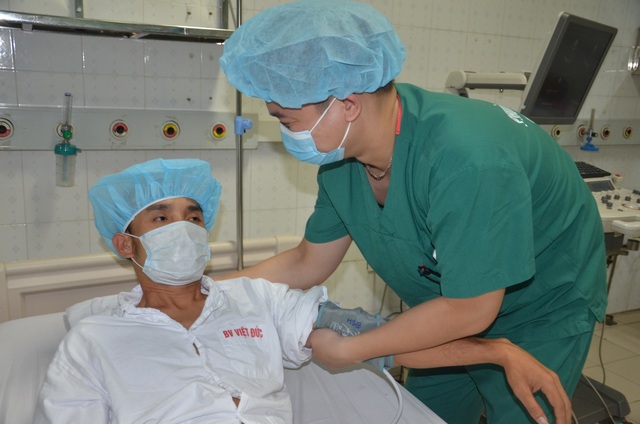 Nguyen Quang Thanh at the hospital.


After their story was published, Thanh's family received VND460m (USD19,700) from readers. However, it was not enough since the heart transplant costs up to VND1bn. As this was an urgent situation, Dantri editor-in-chief Pham Tuan Anh signed the decision to donate VND20m to help Thanh reach the goal faster.

"I don't know what to say. Thank you, everyone, for helping us during this time," Nhu said.

Tran Thi Trang from the Social Work Office at Vietnam-Germany Hospital said, "We are grateful that Thanh's story was brought quickly to the attention of readers. And the urgent help from Dantri is a huge encouragement to Thanh and his family."

Head Nurse Nguyen Thi Thu Ha said the hospital was working to help Thanh as much as possible and they have made plans for an operation.