Lymphoma patient gets help from Dantri readers
A woman in Thanh Hoa Province has received VND340m (USD14,600) from Dantri/DTiNews readers to provide medical treatment for her son who is struggling with lymphoma.

Dantri transfers donation to Le Thi Xuan.
Le Thi Xuan's son, 20-year-old Le Huy Chung, has suffered from lymphoma for two years. In order to treat him, Xuan borrowed over VND100m (USD4,300) but it quickly ran out. Xuan has never lost hope that her son will survive and recover.

Luckily doctors said Chung had the chance to live on if he has bone marrow transplant which costs VND700m (USD30,000).

Dantri representative visited and transferred a donation of VND140,446,877 (USD6,000) to Le Thi Xuan on September 29. Xuan said many people called after their story was published and donated directly to her VND200m.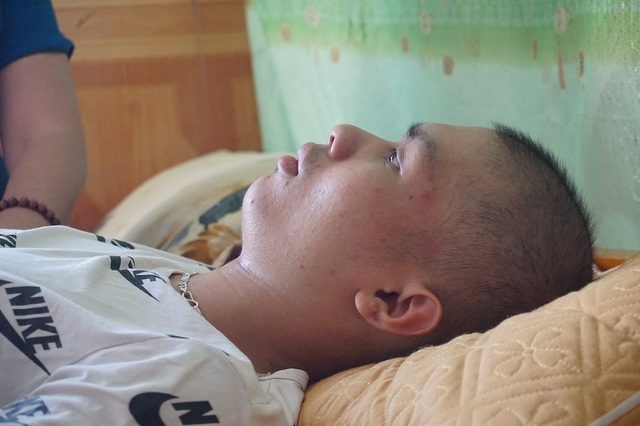 Le Huy Chung


Xuan said she was really moved and thanked everyone that helped them during such time. Xuan and her son will go to Hanoi in two days to continue the treatment.

"I already sold this house to afford my son's bone marrow transplant and I'll continue trying as long as I live," she said.

Nguyen Minh Ha, chairman of the Fatherland Front in Quang Phuc Commune, said, "We want to thank Dantri and the readers that helped Xuan and her son. Xuan and her son have a difficult background and help from many people in order to overcome this challenge."