Old mother in desperate need of help to look after mentally-ill children
An old mother in Quang Binh is calling for help to take care of her mentally-ill children whom she had to lock up to keep them safe.
70-year-old Duong Thi Hue from Vo Thuan 3 Village, Tay Trach Commune, has eight children but four of them have mental illnesses. Hue and her husband both were in the army. Hue is an Agent Orange victim and it affected her children.

Duong Thi Hue has eight children four of them have mental problems.


Two of them, Duong Thanh Binh and Duong Thi Hong Thanh, were diagnosed with schizophrenia. After birth, both Binh and Thanh already showed unusual signs and their conditions have worsened since 2008. They are afraid of light, strangers and often mumble to themselves, scream and destroy the furniture.

Hue's husband died long ago, leaving her to raise the children alone.

In 2010, Hue had to buy a chain to keep her children at home. Then with help from the neighbours, she built a small room to lock them in.

"I have to be careful and look for a time when they are not in a fit to clean the room or feed them. I can only leave the food at the window. I'm afraid if I open the door, they'll leave," she said.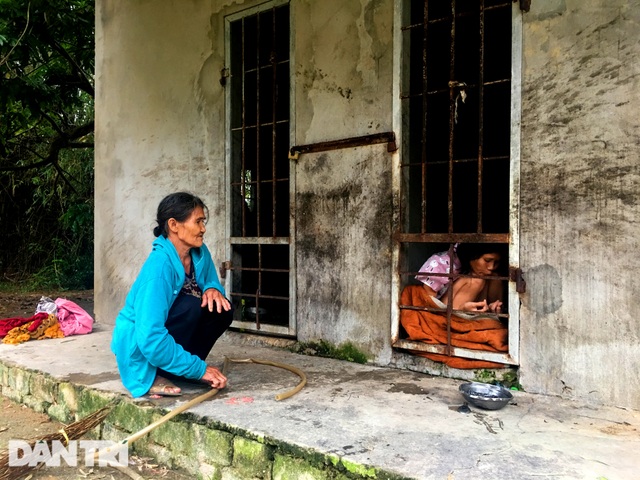 Hue and her daughter.

Meanwhile, the symptoms of another child of Hue, Duong Viet Thanh, is also worsening. The other children are either also have mental illness or left home to find works in other provinces so they can't help.

Duong Thi Hoai Thuong, a state employee in Tay Trach Commune, said they had tried to help Hue's family but it's not a long-term solution.

"Hue is getting weaker while her children's condition has declined. I really hope she will get help from the community. The local authorities are looking into her case to offer support to her ill children," Thuong said.

If you can help please donate through:

1. Code 3928: Duong Thi Hue from Vo Thuan 3 Village, Tay Trach Commune, Bo Trach District, Quang Binh Province.

Tel: 086.875.8514

2. Dantri/DTiNews

No. 2/48 Giang Vo Str., Dong Da Dist., Hanoi

Tel: 024. 3. 7366.491/ Fax: 024. 3. 7366.490
Email: nhanai@dantri.com.vn

* Vietnam Dong Account information at Vietcombank:

Account holder: Bao Dien tu Dan tri
Account number: 451000476889
With Bank: THE BANK FOR FOREIGN TRADE OF VIETNAM – Thanh Cong Branch

* US Dollar Account information at Vietcombank:

Account holder: Bao Dien tu Dan tri
Account number: 0451370477371
SWIFT Code: BFTV VNVX 045
With Bank: THE BANK FOR FOREIGN TRADE OF VIETNAM

* Vietnam Dong Account information at Vietinbank:

Account holder: Bao Dien tu Dan tri
Account number: 129 0000 61096
With Bank: Vietnam Joint Stock Commercial Bank for Industry and Trade – Hoan Kiem Branch

* Vietnam Dong Account information at BIDV
Account holder: Bao Dien tu Dan tri
Account number: 2611 000 3366 882
At: Bank for Investment and Development of Vietnam, Trang An Branch
Address: No. 11, Cua Bac Street, Ba Dinh District, Hanoi; Tel: 0436869656.

* USD Account information at BIDV
Account Name : Bao Dien tu Dan tri
Account Number : 2611 037 3366 886
Swift Code : BIDVVNVX261
Bank Name : Bank for Investment and Development of Vietnam JSC,Trang An Branch
Address : No 11 Cua Bac Str.,Ba Dinh Dist.,Hanoi, Vietnam; Tel: (84-4)3686 9656.

* Vietnam Dong Account information at MB Bank:
Account holder: Bao Dien tu Dan tri
Account number: 0721101010006
With Bank: MILITARY COMMERCIAL JOINT STOCK BANK - Thai Thinh Branch, Hanoi

* US Dollar Account information at MB Bank:
Account holder: Bao Dien tu Dan tri
Account number: 0721101011002
SWIFT Code: MSCBVNVX
With Bank: MILITARY COMMERCIAL JOINT STOCK BANK - MCSB (No.3, Lieu Giai str., Ba Dinh Dist., Hanoi, Vietnam)

* Vietnam Dong Account information at Agribank:
- Account holder: Bao Dien tu Dan tri
- Account number: 1400206034036
- At Agribank, Lang Ha Branch, Hanoi
3. Dantri/DTiNews' representative offices

Ha Tinh office: 46 Nguyen Cong Tru, Tan Giang Ward, Ha Tinh City, Tel: 0239.3.857.122
Da Nang office: 25 Nguyen Tri Phuong, Thanh Khe District, Da Nang City, Tel: 0236. 3653 725
HCM City: No. 294 - 296, Truong Sa Street, Ward 2, Phu Nhuan DIistrict, HCM City; Tel: 028. 3517 6331 (during working hours) or hotline 0974567567
Can Tho office: 53/13 Ly Tu Trong, Ninh Kieu District, Can Tho City, Tel: 0292.3.733.269