Poor ethnic minority couple call for help to save daughter from retinoblastoma
A poor ethnic minority couple in Son La Province is calling for financial support to help treat their small daughter who is suffering from retinoblastoma.


One-year-old Ngan Thi Dao is suffering from retinoblastoma

Ngan Van Thuan and his wife have just brought their one-year-old daughter Ngan Thi Dao to the Hanoi-based National Hospital of Ophthalmology for a check-up after seeing some problems with her eyes. And the couple were shocked after doctors said that their little daughter had retinoblastoma in both eyes.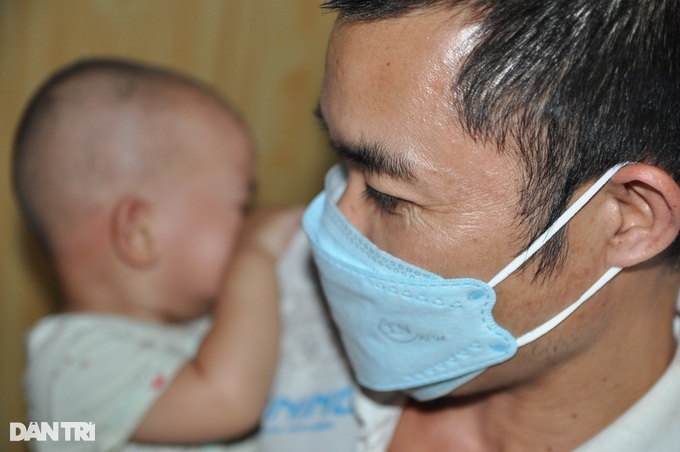 Ngan Van Thuan holds his daughter
"We've never heard about retinoblastoma but we know that cancer was life-threatening," the poor father said in tears. "My little daughter is suffering from pain and she's crying a lot. I wish that I could carry the pain of the disease for her."
The couple, who are from Thai ethnic group and come from the remote mountainous district of Quynh Nhai, decided to sell their farm to raise money to pay the hospital fees for their small child.

Doctor Pham Minh Chau from the National Hospital of Ophthalmology said that Dao is having retinoblastoma in both eyes but the left eye is more serious.

"We have had to remove her left eye while trying to treat the right eye with a 50 percent chance of success," the doctor said. "Even if it was successfully treated, its eyesight will be very poor."

Doctors said that the treatment would be long and costly but the poor couple are running out of money. They hope to receive support from the community so that they can save the life of their child.

If you can help, send your donations to:

1. Code 4517: Ngan Van Thuan

Long Muong Village, Muong Gion Commune, Quynh Nhai District, Son La Province


2. Dantri/DTiNews Online Newspaper

No. 2 Giang Vo Str., Dong Da Dist., Hanoi
Tel: 024. 3. 7366.491/ Fax: 024. 3. 7366.490

Email: nhanai@dantri.com.vn

* Vietnam Dong Account information at Vietcombank:
Account holder: Bao Dien tu Dan tri
Account number: 1017378606
With Bank: THE BANK FOR FOREIGN TRADE OF VIETNAM – Thanh Cong Branch

* US Dollar Account information at Vietcombank:
Account holder: Bao Dien tu Dan tri
Account number: 1017780241
SWIFT Code: BFTV VNVX 045
With Bank: THE BANK FOR FOREIGN TRADE OF VIETNAM


* Vietnam Dong Account information at Vietinbank:
Account holder: Bao Dien tu Dan tri
Account number: 126000081304
With Bank: Vietnam Joint Stock Commercial Bank for Industry and Trade – Hoan Kiem Branch

* Vietnam Dong Account information at BIDV
Account holder: Bao Dien tu Dan tri
Account number: 26110002631994
At: Bank for Investment and Development of Vietnam, Trang An Branch
Address: No. 11, Cua Bac Street, Ba Dinh District, Hanoi; Tel: 0436869656.


* Vietnam Dong Account information at MB Bank:
Account holder: Bao Dien tu Dan tri
Account number: 0231195149383
With Bank: MILITARY COMMERCIAL JOINT STOCK BANK - Thai Thinh Branch, Hanoi


* Vietnam Dong Account information at Agribank:
- Account holder: Bao Dien tu Dan tri
- Account number: 1400206035022
- At Agribank, Lang Ha Branch, Hanoi

* Vietnam Dong Account information at SHB:
- Account holder: Bao Dien tu Dan tri
- Account number: 1017589681
- At SHB, Hanoi branch

3. Dantri/DTiNews' representative offices

Da Nang office: 25 Nguyen Tri Phuong, Thanh Khe District, Da Nang City, Tel: 0236. 3653 725
HCM City: No. 51 Vo Van Tan, Ward 6, District 3, HCM City; Tel: 028. 3517 6331 (during working hours) or hotline 0974567567
Can Tho Office: 2 Hoa Binh Avenue, Ninh Kieu District, Can Tho City, Tel: 0292.3.733.269