Dantri/Dtinews supports health insurance for Hau Giang students
>> Dantri/Dtinews supports health insurance for Can Tho students
Dantri/Dtinews Newspaper has just presented 500 health insurance cards worth VND300 million to disadvantaged students in the southern city of Hau Giang.


Dantri/Dtinews Newspaper presents 500 health insurance cards to disadvantaged students in Hau Giang Province on September 15.

The cards were delivered at a ceremony held at Vi Thuy High School to 500 students from low-income families in the province.

Attending the ceremony, the vice-chairman of Hau Giang Provincial People's Committee, Ho Thu Anh shared that hundreds of local families in the area have been badly affected by the Covid-19 pandemic, leading to thousands of children facing difficulties in their studies.

"We're having over 150,000 students in the 2022-2023 school year, with nearly 9,000 among them belonging to low-income families," the official said. "Some 40 students have lost their parents to Covid-19. Many others need support in terms of school equipment to start the new school year."

Anh said that they had called for support from individuals and organisations to present scholarships, books and textbooks, clothing, and bicycles for many students from low-income families. They have also paid half of the health insurance fees for some students. However, many parents were unable to buy health insurance for their children due to financial difficulties.

"These 500 health insurance cards are meaningful presents for students from families with difficulties," she said. "


Speaking at the ceremony, deputy Editor-in-Chief of Dantri/Dtinews, Nguyen Xuan Toan, said that they decided to support students with health insurance ahead of the new school year to help reduce the treatment costs for their families in case they have health problems.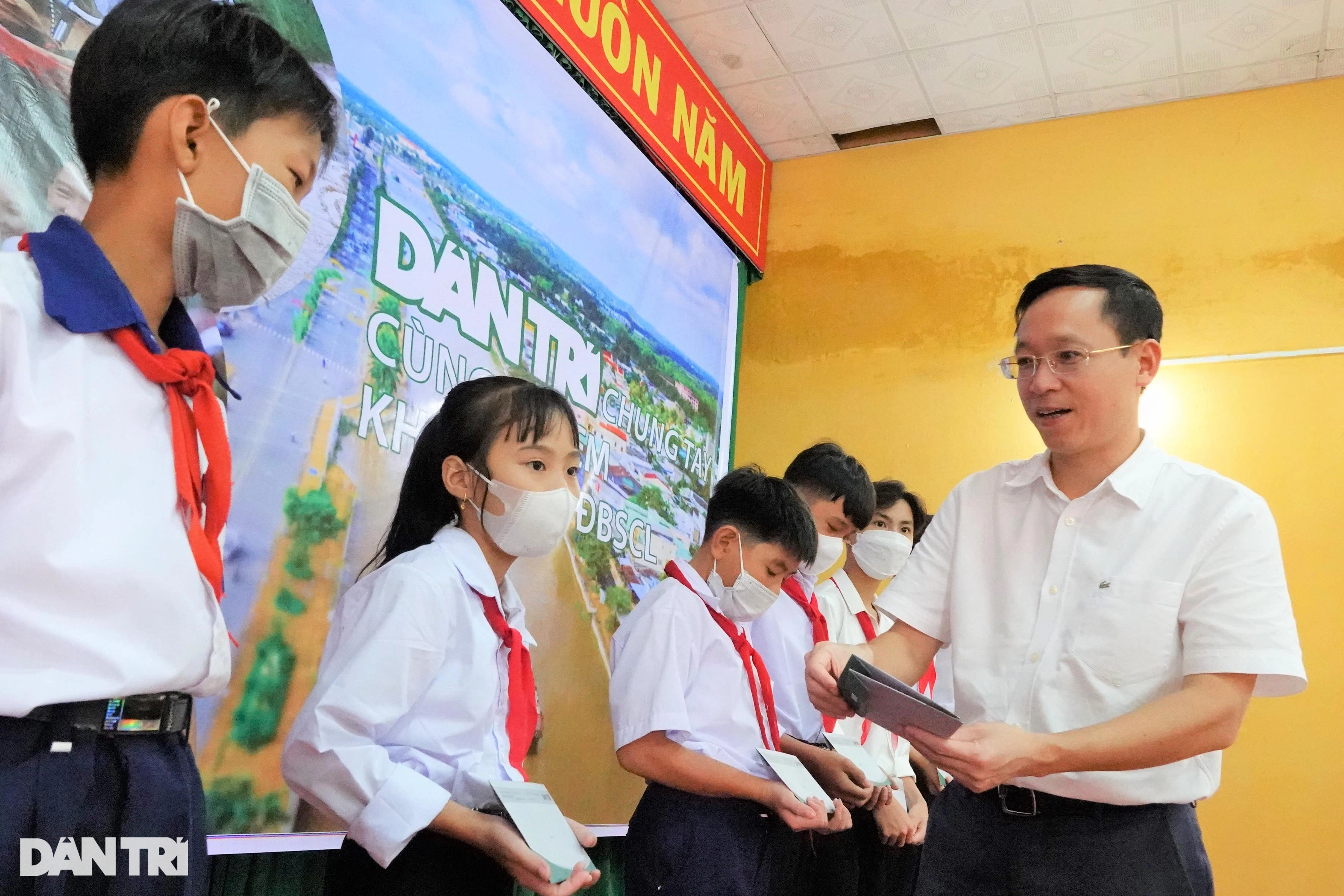 Deputy Editor-in-Chief of Dantri/Dtinews, Nguyen Xuan Toan gives the cards to students

"We launched the pilot annual programme in some Mekong Delta provinces this year and immediately received support from many donors," Toan said. "Ten days ago we presented 1,000 cards worth VND 600 million to students in Can Tho Province."

According to the newspaper, the 500 cards given to students in Hau Giang today were partly supported by Lac Hong Investment Company with VND100 million and KOSY Group with VND 50 million.

Taking her son to receive a card at the ceremony, Nguyen Thi Xuan Dao in Phung Hiep District said that she wanted to send her sincere thanks to Dantri/Dtinews and kind donors for their support.

"My husband and I are doing odd jobs to support our six small children so we're always facing financial difficulties," Dao said. "We have to spend a lot on essential school equipment for the new school year and we don't have spare money for health insurance. Thank you so much for supporting us."