Famous comedian arrested for child sexual assault in US
Well-known comedian Minh Beo, real name Hong Quang Minh, has been arrested in the US state of California on suspicion of child sexual assault.
Minh Beo (right) participated in a charity event in 2015.

On March 28 Minh's brother and artist Thanh Thanh Tam, Minh's co-worker during the tour in the US, confirmed that the 39-year-old actor was now in custody. Minh had contacted home regularly after arriving in the US on March 18, but for three days, the family did not received any calls from him. His family is searching for a lawyer for him. His bail has been set at USD1m.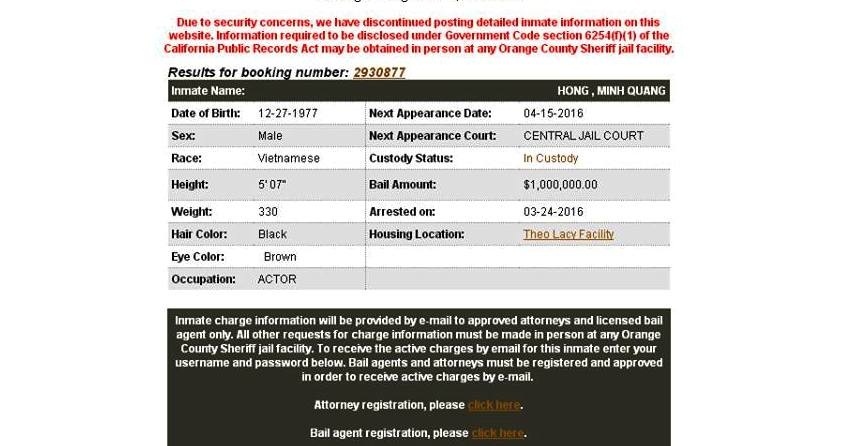 Information on the arrest of Minh Beo on the website of the Theo Lacy Facility
It is reported that the victim's family has a video clip as evidence and artist Vu Luan said the clip was real.
Artists on tour with Minh said he might have to face three charges including a charge of sexually harassing at least one boy. Several artists, who want to remain anonymous, said that he tried to molest at least one boy during a talent contest in California.
Minh's trial will start on April 15.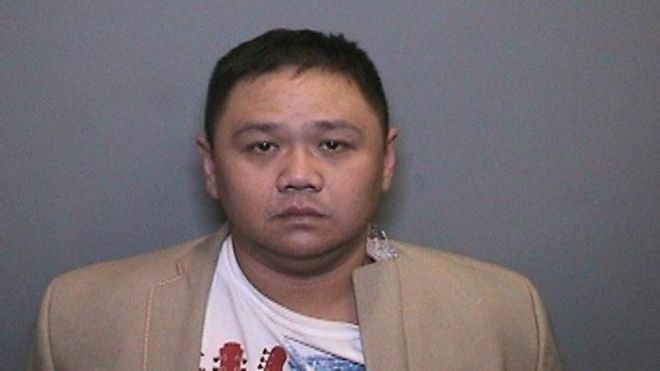 Minh Beo, real name Hong Quang Minh, was arrested in the US on March 24 on suspicion of child sexual assault.

Deputy Consul General Cao Vu Mai of the Vietnamese Consulate General in San Francisco said on March 29 morning that they had contacted with the Theo Lacy Facility. "Inmate information was not provided as this case is still under investigation," she said. "We'll send two officials to the facility tomorrow."
In 2014, Minh was involved in a scandal after a young singer accused him of sexual harassment. But after the accusation made the media, the singer removed it from his Facebook page.
Minh then announced that he was slandered and there was no concrete evidence. He said, "Some new singers, actors and actresses are wanting to promote themselves by various methods and I don't want to help this singer create a scandal to promote himself."