French photographer to build Cơ Tu museum in Quang Nam
French photographer Rehahn plans to build a Cơ Tu Museum offering information on the ethnic group living in the mountainous areas of Quảng Nam Province in the centre of the province's Tây Giang district.



Traditional: An old Cơ Tu man plays a string instrument (abel)






The museum will become a display of Cơ Tu culture and rendezvous point for festivals among the ethnic groups living in the province, Thừa Thiên-Huế and Laos.
Rehahn said that the museum will be built on a total of 2,000sq.m.
"Tây Giang District offered me land where I could help them to set up the museum, in co-operation with cultural researcher Trần Tấn Vịnh and Cơ Tu people. The museum will be introduced in three languages – French, English and Vietnamese," he said.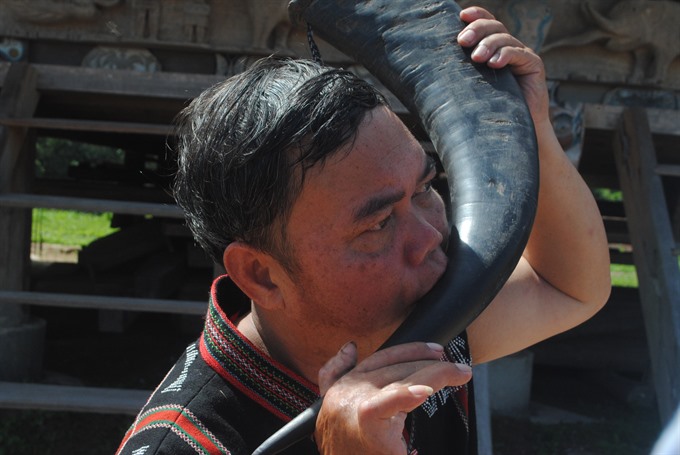 Melodic: A Cơ Tu man plays a buffalo horn -- a musical intrument of the ethnic group
He said the idea originated one day when he talked with a chief of the Cơ Tu Village in Đông Giang District in the province about preservation of Cơ Tu musical instruments for the next generation.
"He told me that kids often come to his house to ask questions about instruments or stories and he said, 'When I die, who will answer them?' And then I decided to open a museum for the preservation of their culture before it disappears completely," Rehahn recalled.
"Cơ Tu culture and people gave me so much for my museum -- the Museum of Ethnology – in Hội An city and they always welcomed me like a brother. So, I want to help them," he said.
Party secretary of Tây Giang District, Bh'riu Liếc, a Cơ Tu man, said the district has allocated land for the development of the museum and Rehahn has come to help construct it.
He said the district would seek objects among the Cơ Tu community in Quảng Nam and neighbouring provinces as well as districts in Laos for display.
Liếc said Cơ Tu people have preserved their rich culture for generations, but yet such a museum is built at the locality for regular visit and display.
As planned, the museum will be built according to the design of a Gươl (traditional communal long house of Cơ Tu people) – displaying the most typical antiquities of the ethnic group.
The Gươl also plays the role of the heart and soul of the community. It serves as a rendezvous for all the big festivals and meetings held every year.
Tây Giang District is home to the largest Cơ Tu community in Vietnam. The people comprise 91 per cent of the district's population of 17,000.
Réhahn is a photographer born in Normandy, France. He has made Hội An his home since 2011, where he established the Precious Heritage Art Gallery Museum at 26 Phan Bội Châu.
The 250sq.m space is home to more than 30 authentic traditional costumes, 200 photos, precious artifacts and stories translated in French, English and Vietnamese. It is the culmination of five years of exploration of Vetnam's 54 ethnic groups.
He and a group of artists and entrepreneurs are also pushing to turn the street into what he calls Rue des Arts.