Bandland offers underground and indie bands chance to shine
Underground and indie music bands nationwide will have a chance to introduce their latest works when they join Bandland – a new 'playground' that has been launched recently, gathering young and talented music groups.
HUB band seen in the BandLand show on July 4. From July, Bandland has presented its shows on the first and third Thursday every month, at 8.30pm on BandLand Youtube channel. — Photos courtesy of the producer
According to the programme initiator, Hanoi-based songwriter and music producer Dương Cầm, Bandland is expected to discover, nurture, and develop new bands in Vietnam.

A member of a band when he was a student of the National Academy of Music in Hanoi and current the frontman of the band Background, Cầm said that he understands all the difficulties and challenges that any band has to cope with to exist and develop.

That's why he has nurtured the idea of creating a playground for indie and underground bands where young musicians and singers can shine.

"Currently, although there are many talented young bands, they aren't widely known by music lovers. We, the organisers, expect that Bandland will be a 'rich land' for those promising bands to stand out, and thus further develop in the future," he said.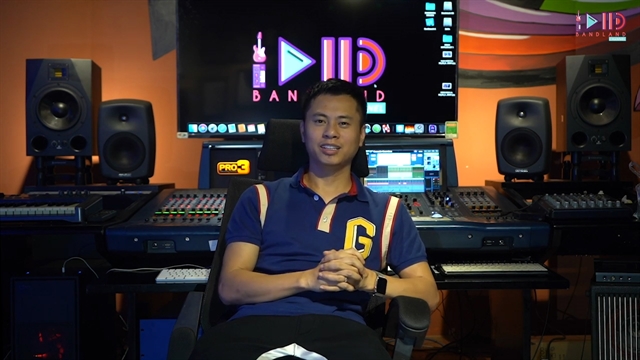 BandLand's initiator, songwriter and music producer Dương Cầm,


Every band joining the Bandland programme will perform in the BandLand studio where they present their own songs or cover songs by others. The performance will be recorded and then posted on the Bandland YouTube channel.

Since its debut show featuring Jazz Glory on April 2, Bandland so far has presented 13 shows of seven bands, earning more than 100,000 views.

"Although that number [100,000] is not something magnificent, it shows the interest of viewers, especially young ones, in our 'playground' as well as the bands," said Cầm.

The music producer also said his team has been required to guarantee the best quality of music.

"Unlike performances on stage where the audience's enjoyment can be enhanced by some additional elements such as lighting and atmosphere, the studio performances have only one ingredient – the sound quality, to impress listeners," he explained.

Co-produced by the programme's initiator Cầm and Muse Production, from July, Bandland has presented its shows on the first and third Thursday of every month, at 8.30pm on the BandLand YouTube channel.

Together with an introduction about the group called 'Life of the Band', every show will also feature their studio performance called 'Live in the Studio'.

In addition, Bandland's YouTube channel will aslo present the bands' stage performances on every second Saturday of the month. These performances will take place on the outdoor stage set up during the weekend on the pedestrian street by Hoàn Kiếm Lake.

In the near future, the programme's producers also have plan to organise Bandland Season – a music festival for all young and promising bands.

"This event will create more opportunities for the bands to introduce their works as well as to improve their performing skills when they perform live in front of hundreds of fans," producer Cầm said.

Composing a camp, workshops on matters such as the music production process and how to follow global music trends, will also be in the plan of the organisers.