Vietnam football team vaccinated for Covid-19 before World Cup qualifiers
Standing vice-chairman of the Vietnam Football Federation Tran Quoc Tuan, Coach Park Hang-seo and other members of the Vietnamese national football team received their first Covid-19 shots on Monday morning in Hanoi.
Coach Park Hang-seo receives the first Covid-19 vaccine shot in Hanoi on April 5.

The vaccination was carried out at the 108 Military Hospital as a preparation activity for the World Cup 2022 qualifiers in the UAE in June.

VFF's vice-chairman Tran Quoc Tuan said that he felt good after getting the vaccine.

"The other members of the team and myself were all fine after being vaccinated," Tuan said. "We were monitored for 30 minutes at the hospital and then doctors let us go."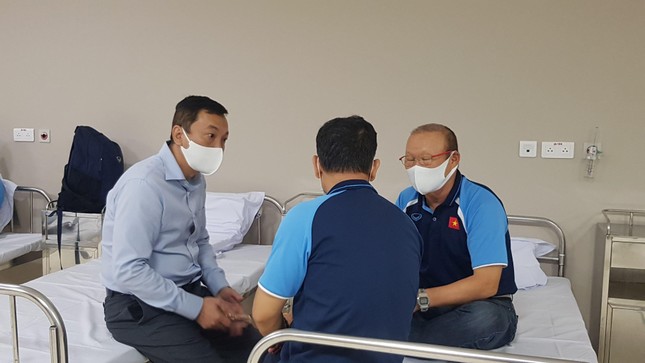 Standing Vice-chairman of the Vietnam Football Federation Tran Quoc Tuan and Coach Park Hang-seo are monitored at the hospital after receiving the vaccine


According to VFF, the Vietnamese team will gather for the second round of World Cup 2022 qualifiers on May 10 before leaving for the UAE on May 31.

The team will have their first match with Indonesia on June 7 and will then play against Malaysia on June 11 and finally the hosts UAE on June 15.

At present, Park Hang-seo's team top the group with 11 points after three wins and two draws. Following closely behind are Malaysia (nine points), Thailand (eight) and UAE (six), which have played a game less.

Indonesia cannot qualify after losing all five games.

Vietnam will need a minimum of six points from the remaining three matches to advance to the final qualification round.