Controversy over regional accents of newscasters
The central regional accents of a newscasters on Vietnam Television (VTV) on August 6 have raised controversy about the standards for anchors.
To date, the national news channel has been dominated by newscasters with northern accents. However, a few years ago, VTV welcomed a new anchor named Hoai Anh, who has a light southern accent. Since her hiring, there have been numerous complaints because of the deviation from standard northern Vietnamese, however light. Still, many viewers like her, saying she delivers news clearly and steadily. But, debates over the issue persist.
Some time ago, VTV1 took on a newscaster named Anh Phuong, who attracted attention with her central accent, which many believed to be from Hue City. Some welcomed the change towards diversification of the station. "Anh Phuong's voice is soft. She deserves to read the news," said one internet user.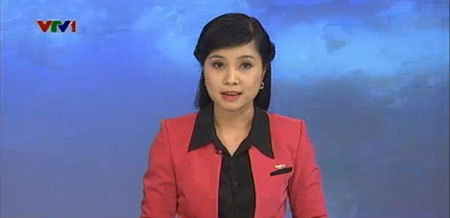 Anh Phuong
Another user said that national television should include more regional accents. "This is Vietnam Television, not Hanoi Television." He went on to say that this change may help people get used to hearing and understanding accents from other regions.
Still, there are others who would hold tightly to the northern accent standard, especially for news broadcasters. These people believe that Hanoians speak the clearest and that viewers might not be able to fully understand the information if it were not spoken in a standard northern accent.
A reader of Vietnamnet Newspaper commented, "I don't care which region the newscaster is from, but they have to speak right. A newscaster can't get the sound "ăn" mixed up with "ăng" like that newscaster from Hue."
Kim Tien, a well-known veteran newscaster from VTV, is also against the changes. "VTV should not 'localise' the news, because each province and city still has their own channels. What if the ethnic minority groups also wanted their accents represented on the national news?" she said.