Hanoi investigates family-run district
Hanoi People's Committee are investigating a local authority where over ten family members have apparently coincidentally been employed as officials of My Duc District.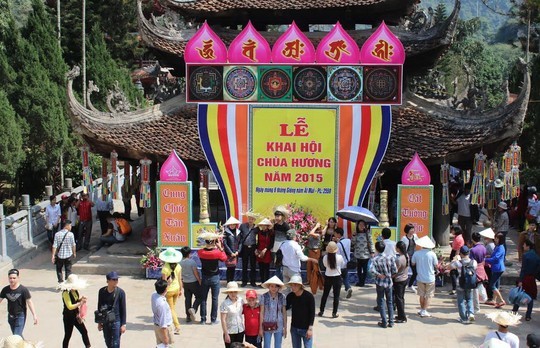 My Duc is famous for the Huong Pagoda Festival

Most of the officials are related in some way to the district party secretary Le Van Sang. For example, head of the Finance and Planning Office is Sang's aunt, deputy head of the district's office is the daughter of Sang's in-laws, the deputy head of the project management board and deputy head of the Economic Office are Sang's cousins.
Head of the Office of Personnel and Organisation and Sang's uncle, Le Van Son said all of the relatives had the required skills and degrees. He said, "They might be relatives, but this just means their abilities and skills have to be more outstanding than other candidates."
Nguyen Lan Huong, the district deputy party secretary said it's unfair to imply that Sang was at the centre of the complicated family web because lots of his relatives already had positions before Sang became the district secretary.
"One of the causes for this unique situation is because we lack young officials, especially female officials, and can't seem to be able to meet the city's targets to cut the average age of people working in the civil service," she claimed. "We followed all the procedures. If there were anything wrong, the city inspectorate would have made a complaint already."
However, some anonymous sources reported that many of these officials secured their positions rather easily. The district is home to well-known Hanoi tourist attraction and religious site the Huong Pagoda. As a shortcut to gaining administrative experience, the Huong Pagoda's management board conveniently hired many of the district's current employees. After brushing-up their highly crafted administrative skills, they were transferred to the My Duc People's Committee.
After the situation became public, Hanoi People's Committee began an investigation in the operation of My Duc District and is waiting for the report.