Restaurants ratchet up Tet prices
Vu Chi Minh was shocked when being charged VND 150,000 (USD6.70) for a bowl of beef noodle at a humble street-side food stall on Highway 21 in Ha Nam Province's Phu Ly City on February 13. He tried to argue with the stall's owner but could not persuade him to lower the prices.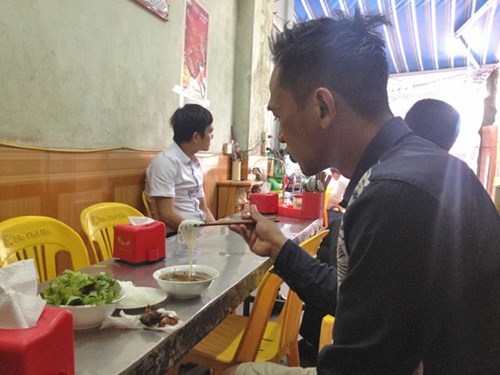 A customer having noddle with grilled pork at a restaurant in Hanoi. He was then charged VND 50,000 for it. Photo by VNN
"I was furious when asked to pay that price for it," the student of a university in Hanoi said. "It was ridiculous. I had noodles here during my last visit to my hometown in Ninh Binh Province last month and was charged only VND25,000 a bowl."
Minh said that she also expected the prices to go up a bit around Tet but could never have imagined such a large increase. "I was asked to pay VND300,000 for two bowls of beef noodles for me and my friend, and VND 40,000 for two small bottles of soft drink, while last month noodles were just VND 25,000 a bowl and C2 drink VND10,000 a bottle," she explained.
"The restaurant owner claimed that ingredients were more expensive and labour more costly at Tet, so had decided to raise prices, but I think this price is not fair for his customers," Minh said.
Exploitative price rises are quite common during Tet on major roads or during holidays.
The same situation was repeated in many restaurants on roads in the southern provinces of Vinh Long, Tien Giang, Long An provinces leading to HCM City.
A customer said that the Thai Hoa at Ba Beo Restaurant in Vinh Long Province said that a dish of chicken and rice would normally cost VND 25,000, but on the second day of Tet, February 10, she was charged VND 60,000. Drinks were also double their normal price.
Diners in Hanoi have also seen food prices going up at many restaurants. A bowl of crab noodles at a food stall on Trieu Viet Vuong Street was priced at VND50,000 on February 12 compared with its usual VND 30,000.
Hoa said people should go to large restaurants with listed prices or double check before ordering at smaller places.