Life in a Ho Chi Minh City slum
Ho Chi Minh City once was called the "Pearl of the Far-East" during the French colonial period, however, in the middle of District 1 is a slum where the houses are so small that a family has no space to eat a meal together.

The entrance to Ma Lang Slum can be found along Nguyen Cu Trinh and Nguyen Trai streets, after going through a maze of tiny alleyways. Hundreds of dilapidated houses that are only five to seven square metres are packed together, some of them are hidden in the corner and haven't had any sunshine for half a century.

A corner of Ma Lang Slum
All six members of Nguyen Van Hiep's family live in a house that is 1.5 metres wide and five metres long. Hiep said he went to HCM City and bought this house in 1990. The original house was 15 square metres but the owner divided it in two to sell more easily. Hiep had to find ways to add a five-square-metre attic to the house where they store furniture and is also a kitchen. They don't even have a toilet.

In the old times, the slum had six public toilets but as more and more people flocked to the city, they converted the toilets into residential houses. Many people have to relief themselves near their doorsteps.

Huynh Trung Nghia's family has 14 members and all of them live together in a 11-square-metre house. The families always leave their bicycles and motorbikes outdoor because there's no space in the house and also because "the alleyways are so small the thieves can't run away fast enough," Nghia said.

Huynh Trung Nghia's family lives in a 11-square-metre house

Beds are a luxury item for the residents here. Nghia said there was no secret as to how so many people can sleep together in such small space.

"There are no secrets. We're packed together like sardines in a box. One person's head touches another's feet. It's nothing. Eating is costly, staying is not so much," he said.

The meals are cooked and left in the house, who have time will eat first and when there's no space, some bring the food to the alleyway.

"I've lived in this house for decades but have never eaten a meal together with the whole family because we can't fit everyone inside," he said.

For many residents, the house is only a place to sleep through the night. At dawn, they spread out to go to their work. Some said it was tiring just to breathe but they had got used to it. "We don't know where to go. The money we earn is enough for daily meals only," a resident said.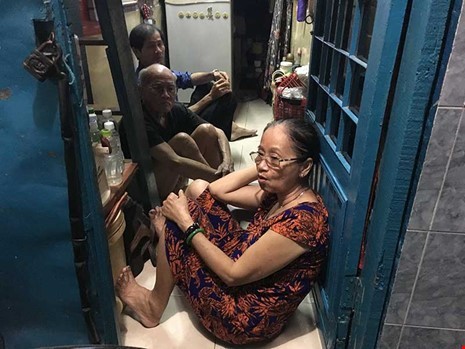 Pham Thi Tuyet Nga lives with her old father in a five-square-metre room.
Statistics from the Nguyen Cu Trinh Ward People's Committee show that Ma Lang area covers three hectares and has over 2,500 people. Each household has an average of four members. Before 1975, the residential area was mixed with a cemetery. From 1997 to 2003, it was a hotspot for drug dealers and addicts. There's no drug selling in the area now but the poverty remains.

In 2000, HCM City authorities proposed to clear the slum and upgrade the area but the project hasn't started because of difficulties in ground clearance and compensation task.

Early this year, the city authorities asked the Department of Natural Resources and Environment to review the laws and work with the authorities of District 1 and Bitexco Group to carry out ground clearance and resettlement plans in the second quarter.