Hundreds of households stuck inside national park
Hundreds of people who live inside Ben En National Park have complained about their land being confiscated, yet they still haven't received any compensation to resettle their lives.

Hundreds of people live in the national park


Ben En National Park was established in 1992 on Nhu Thanh and Nhu Xuan districts, Thanh Hoa Province. After the establishment, nine villages were surrounded by special-use forest. According to the regulations, 517 households with 2,100 people needed to be moved out, but nothing has been done so the villagers do not have any agricultural land.

80-year-old Luong Van Hiem from Thanh Binh Village said he had lived in the forest since he was small. His family has lived there for generations but now they do not have land-use right certificate and no agricultural land to make a living.

"We have seven family members but only small fields. My eldest daughter wants to move out but we don't have money or land to build a house for her," he said.

They can't even let their cattle wander into the forest. When they want to make bank loans to invest in something, they don't have anything to put up as collateral. The villagers seem to be stuck in the forest.

"The rangers said since we were in the national park, every piece of land belongs to the government. We can't even do anything on a bare hill," said Luong Thi Nguyen.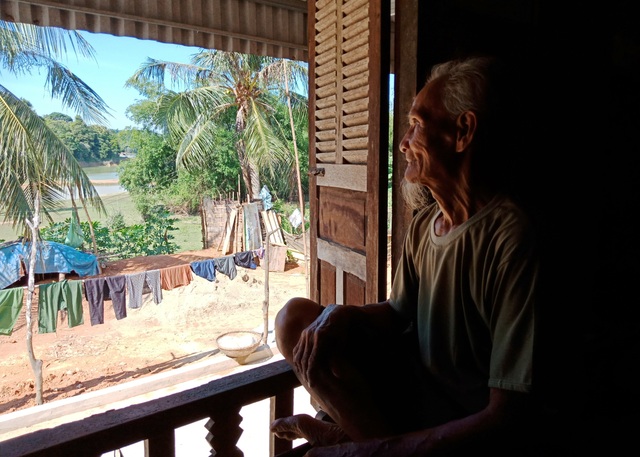 Many people stuck inside the forest


Le Huu Dong, chairman of Tan Binh Commune, said 1,899 hectares of the commune is the national park and 159 households were in need of farmland. According to Dong, they do not manage the forest land so it's very difficult to deal with violations. "Thanh Binh Village has beautiful scenery to develop tourism but there's nothing the villagers can do now," he said.

The initial plan was to move all villagers to a new resettlement area. However, this plan was scrapped because of the huge cost. It was then discussed whether to give 368.4 hectares of forest land to the villagers but nothing has been completed since then.

"The plan was approved in 2013 but due to complicated procedures that it is still in process," said Dang Huu Nghi, director of Ben En National Park. "We have submitted the report to the Ministry of Agriculture and Rural Development. The ministry said that they must seek opinions from other agencies."