Voluntary boat rescue team established in Quang Binh
An official in Quang Binh Province has set up a volunteer boat rescue team to aid local people and visitors to Phong Nha Cave.

Pham Ngoc Sam, party secretary of Ha Loi Village
Son Trach Village in Bo Trach District is located inside the Phong Nha-Ke Bang National Park. Its river tourism is highly developed, receiving a large number of tourists every day. However, the river rescue is still neglected which led to unwanted fatalities, especially during the rainy season.

Pham Ngoc Sam, party secretary of Ha Loi Village, decided to take actions to prevent accidents and deaths on the rivers. He called for donations and spent his own money and collected nearly VND400m (USD17,200) to buy boats and equipment and set up a rescue company on the Son River.

The team has recruited 40 volunteers for the job. They have 18 boats with life jackets and first aid kits.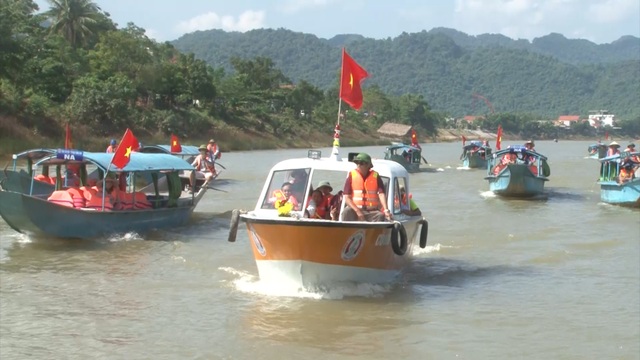 Rescue team on the Son River

"First and foremost, this is a charitable activity to help other people during the rainy season. Moreover, the number of tourists travelling by boats is high so a rescue team is necessary. We also want to make Quang Binh tourism more professional," Sam said.

Phan Thanh Luan, vice chairman of Son Trach Commune, said a tourist boat had recently capsized on Son River. Moreover, the local people and students must also travel by boats to go to school and work.

"We are willing to help and have called for other organisations and agencies to co-operate with Son so that the rescue work will be more efficient," he said.