Elderly complain anti-poverty cow donation policy doesn't work
Many elderly people from low-income families in Quang Binh Province have complained about being given cows as part of the Resilience and Escape Poverty project as they can no longer work.

84-year-old Nguyen Thi Khe
Poor families in Truong Thuy Commune, Le Thuy District were given cows in the programme to escape poverty carried out by the Fatherland Front Committee in Quang Binh. However, a large number of households are lonely elderly people.

84-year-old Nguyen Thi Khe lives alone in a 30-square-metre house. She has leg, ear and eye problems so it's difficult to cook every day. As she couldn't afford a cowshed, she tied the cow in the garden.

"I had to hire someone to take care of the cow. After two months, I had to sell the cow for VND4m (USD174)," Khe said.

The officials of Truong Thuy Commune tried to persuade her to buy the cow back for an inspection. According to the regulations, the locals must take care of the cows for at least 36 months before they can sell it. Because Khe couldn't take care of the cow, she was removed from the poor household list.

Truong Thi Lanh, who is near 90 years old, also lives alone. When the authorities required everyone to take a cow-raising training class, she had to ask her nephew to take her place. The cow was sent to her children who are living in another place.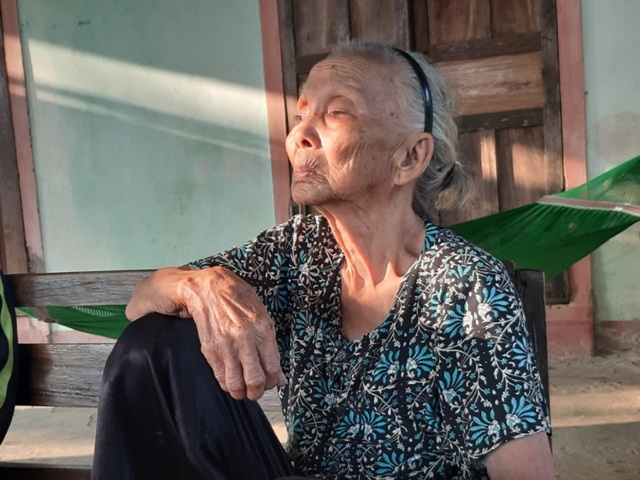 Truong Thi Lanh
"I can't walk around easily anymore and don't have the health to raise a cow. I do not dare to sell the cow so I sent it to my children," she said.

Many people have raised concerns about the programme's practice and effectiveness.

Truong Tan Chau, chairman of Truong Thuy Commune Fatherland Front Committee, said there had been three buffalo-giving events since 2017 and 12 cows had been given away. Truong Thuy Commune has 21 poor households and most of them are lonely elderly people. However, according to the programme, they must give the cows away to poor households so they had no other choice.