Free masks offered to public in Ninh Thuan
Many firms and volunteers went to offer free masks for people to prevent the spread of coronavirus in Ninh Thuan Province on February 1 and 2.

Free mask giveaway

Many private medical firms in Ninh Thuan have donated supplies such as masks and hand wash. The local volunteers then give out the masks and hand wash for free to people.

On February 1, a group of volunteers in Phan Rang-Thap Cham City gave out 5,000 masks for free to people along main roads like Loc Phat bus stop.

Mai Quoc Thanh, head of the group, said, "Even though Ninh Thuan hasn't had any confirmed cases, everyone is still very worried and buying masks is still difficult because of shortages. We offered our help after knowing that a company was planning to provide free masks to the public. We've given away 2,500 masks at Ngo Gia Tu-April 16 intersection alone."

2,500 masks given away at Ngo Gia Tu-April 16 intersection


Le Thi Hien from Do Vinh Ward said, "My son is going to study in HCM City. We went to many pharmacies but couldn't buy masks. I was worried when I heard about this location. The volunteers gave my son a box of masks."

Afterwards, Hien accompanied the group in their work. Some children also asked for masks for themselves and their parents.

On February 2, a beauty salon in Thanh Son Ward gave away 1,000 hand wash bottles to help the community. A real estate company in Phan Rang-Thap Cham City also gave away 5,000 masks.

In Thanh Hoa Province, many people have flocked to the pharmacies to buy masks, causing a shortage since January 31. While some people have taken advantages of the situation to hoard masks and overcharge, but other pharmacies, clinics, volunteers and police are giving away masks.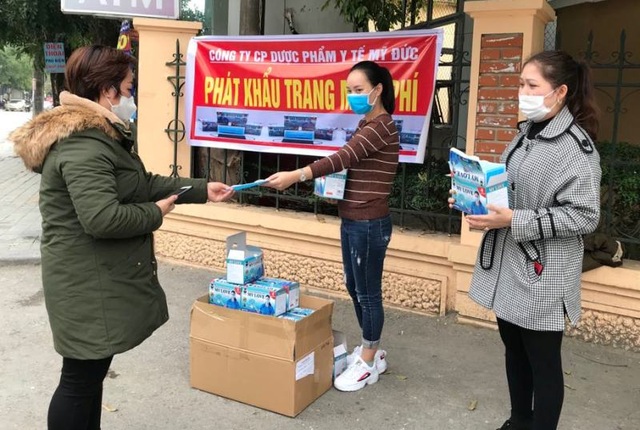 Free giveaway by My Duc Medical Pharmaceutical JSC


According to Le Van Hoang, owner of Hoang An Pharmacy on Tran Phu Street, it's not rare to see people flocking to pharmacies to buy masks. The pharmacy then decided to give away 2-5 masks per person. On February 1 and 2, they gave away a total 15,000 masks.

People also gathered in front of Thanh Hoa General Hospital on February 1 for free giveaway by My Duc Medical Pharmaceutical JSC. According to a worker, many people were unable to buy masks because of high prices. An Viet Clinic is also giving away 15,000 masks.

Le Dinh Thanh, a local in Dong Ve Ward, said, "Usually, the masks don't cost much but during such times, giving masks away for free is really nice and honourable action."

On February 2, the police and the youth union in Thanh Hoa co-operated to give away 1,000 free masks to people in Dien Bien Market and CoopMart Supermarket where large crowds gather. The police also gave away 700 leaflets about coronavirus and preventive measures.

Deputy Prime Minister Vu Duc Dam has asked the health sector and the industry and trade sector to tighten monitoring and inspection to prevent fake masks and overcharging. Shops will have business licenses revoked if they are found selling overpriced masks and hand wash.

Thanh Hoa Department of Finance was asked to buy equipment and supplies to fight the disease. The local health sector is trying to find providers for medical supplies.