Dak Nong raises awareness about Covid-19 among ethnic groups
Military officers in Dak Nong Province have translated information about the Covid-19 epidemic to the language of the ethnic M'Nong group to raise local awareness.

Dak Nong raises awareness about Covid-19 among ethnic groups
Thuan An Commune is a border commune in Dak Mil District, Dak Nong Province. 30% of its population is the M'Nong ethnic people who live in Sa Pa and Bu Dak villages. Many of them have family members in Cambodia so they often cross the border to visit each other. Since the majority of them do not know Vietnamese, they can't read much information about the outbreak and advice from the Ministry of Health.

Since the start of the outbreak, the border guards have worked with local authorities to raise public awareness by broadcasting the news in M'Nong language. In the past week, the Thuan An border gate team often go to places with large crowds like the markets and schools to broadcast the news.

"We broadcast the news in both Vietnamese and M'Nong language. We also handout leaflets with various pictures to make it easier to understand," said Lieutenant Colonel Doan Van Tien from Thuan An Border Gate. "We also go to every house to raise awareness to help people understand more about the situation and stay calm."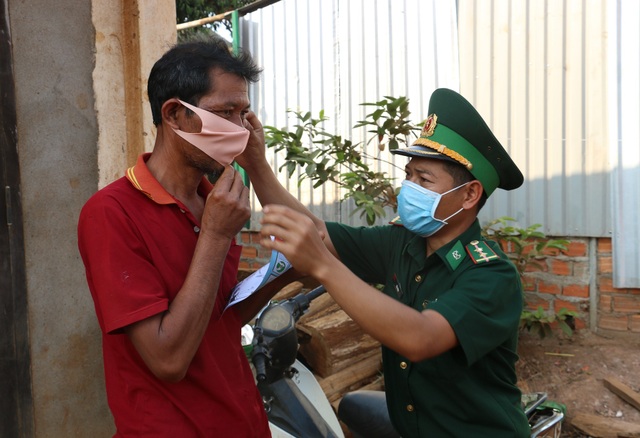 Wearing face masks

Thuan An Border Gate also helps hang banners about preventive measures against the outbreak in two languages at large gathering places. Many people said they had known more to protect themselves such as using face masks, washing hands, and limiting border crossing when the news was broadcasted in their language.

Y Tanh, an elderly in Sa Pa Village, said, "Not everyone knows Vietnamese. Old people can't go to school to study anymore. We all think that what the border guards are doing is really meaningful."

According to Tien, in the past month, many ethnic people have ceased large crowd gatherings and have followed the advice thanks to all promotion measures. Only when there is an urgent need have they crossed the border to see family members.