Lao Cai buffalos die due to cold weather
45 buffaloes in Lao Cai Province have died as the mountainous areas were covered in snow and frost.
Lao Cai covered in frost and snow
On January 11, Lao Cai Steering Committee for Disaster Prevention and Search and Rescue announced that from January 8 to 11, snow and frost had appeared in the mountainous areas of Lao Cai as the temperatures dropped to below 11.5 degrees. The temperatures in Sapa and some mountainous communes in Bat Xat District were minus 0.8 degrees.
As a result, 45 buffaloes died because of the cold. The committee urged localities authorities to carry out necessary measures to protect the locals, crops and livestock. The residents in Sapa and Bat Xat were directed on how to bring their livestock to warmer locations and how to store feed. Students in mountainous areas have continued to stay home.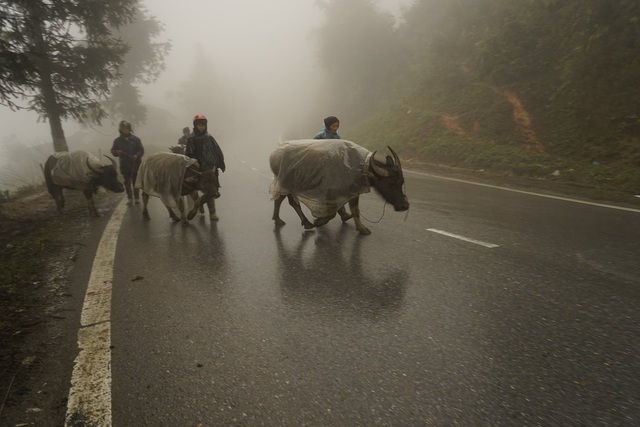 Authorities urge to protect the livestock
Also on January 11, Lao Cai People's Committee issued an urgent directive on rerouting so that travellers can avoid slippery roads and unwanted accidents. Trucks have been banned from using National Highway 4D. Vehicles with more than 4 axles are banned from travelling from Sapa to Tram Ton Pass. Other vehicles are also warned to stay away from this area.
Vehicles that want to go to Lai Chau must exit Noi Bai-Lao Cai Highway at the IC16 intersection and then continue on HIghway 279.
The traffic police and the police in Sapa and Bat Xat have been sent to check points to regulate the traffic and deal with emergencies.
Tourists should avoid going to O Quy Ho and Tram Ton to watch the snow by themselves.