People pray outside as pagodas closed for Covid-19 prevention
Many people in Hanoi have prayed outside closed pagodas on the 15th day of the first lunar month.
People pray outside closed door at Phuc Khanh Pagoda on February 25

Vietnamese often visit pagodas and temples in the first lunar month to pray for luck and prosperity.
Phuc Khanh Pagoda, one of the most famous in Hanoi that often received a large number of visitors some days ahead of 15th day of the first lunar month, which falls on February 26 this year. In previous years, people often lined up in long queues outside of the pagoda during these days. As religious events were suspended and places were closed temporarily for Covid-19 prevention, Phuc Khanh Pagoda announced that they would hold an online praying ceremony on February 25.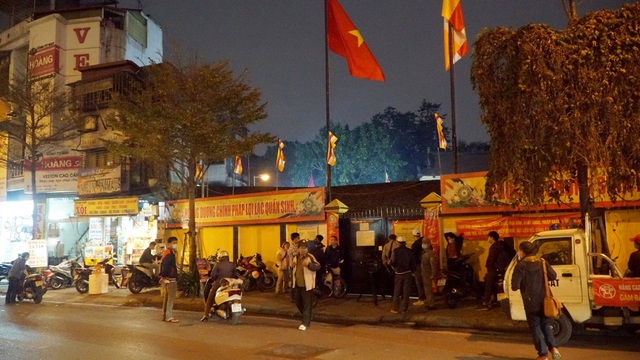 However, several people still went to the pagoda and prayed outside the closed doors. An, a resident in Hanoi, said she didn't know about the online praying ceremony and only knew about the announcement when she arrived.
"I'm too old and slow so I didn't read much. I completely support the pagoda's decision to close for virus prevention," she said.
Praying for luck and prosperity
The guard and police also helped to guide the visitors. According to the police, last year, they had to work since early morning and visitors would stand on the roadbed to pray. This year, many people only pray outside for a short time and went home.
Other pagodas in Hanoi such as Ha Pagoda, Quan Su Pagoda and Quan Thanh Pagoda also closed for virus prevention.
Bui Thu Huyen from Ba Dinh District said the first lunar month is an important day.
"I support the implementation of preventive measures. Today I have to go out for some businesses and Quan Thanh Pagoda is on my route so I decided to come here and pray outside," she said.