New public venue established by the Red River
A new public venue and art space have been set up at the Phuc Tan Ward in Hanoi's Hoan Kiem District.
New public venue established in Phuc Tan Ward

Phuc Tan Ward largely suffers from underinvestment in infrastructure. But its image has been improved thanks to the project to improve public spaces of Think Playgrounds. The project has gained support from the local authorities, the public, and organisations that love Hanoi.
Spanish designer Diego Cortizas helped created the wall murals of the venue.
"When we think about public venues, we often think about big park and squares and pay less attention to small spaces in urban areas. Such spaces are very important for public activities. With help from the government and community, such spaces will make Hanoi become a city worth living even in the suburban," said Le Quang Binh from For a Worth-Living Hanoi Network.
Local Nguyen Van Tao said after the venue was established, it has become their central area and the locals contributed money and effort to make it safer and better.
The public venue at Phuc Tan is one of 200 public spaces that Think Playgrounds have been able to restore or created. Nguyen Tieu Quoc, representative of Think Playgrounds said everyone had a desire for a good public space.
"We almost faced no trouble in persuading the locals," he said.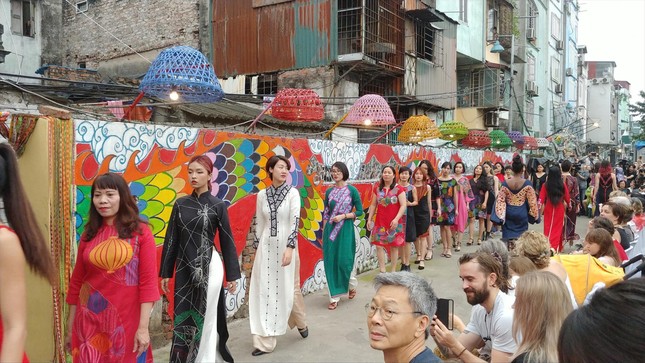 A fashion show of designer Diego Cortizas

Not far away is an art space set up by Hoan Kiem People's Committee a year ago. On March 23, a fashion show of designer Diego Cortizas was held by Hoan Kiem Center for Culture - Information and Sports, Phuc Tan Ward People's Committee and the artists in the Phuc Tan Public Art Project. The show had attracted many locals.
Nguyen The Son, a member of the Phuc Tan Public Art Project, said he and his friends in Hanoi had never been to Phuc Tan and was glad and his contribution helped recreate the face of Phuc Tan.
"People living in these suburban areas are almost considered second-class citizens in Hanoi. We've changed a dilapidated and run-down area into space which they can be proud of. Hanoi is lacking public and green spaces like this," he said.
He went on to say that once the locals love their living area, they will put effort into maintaining, keeping it clean and preventing it from deteriorating like the Hanoi ceramic mosaic mural.