Police warn about Cambodian human trafficking scams
Authorities in some central and central highlands provinces are investigating human trafficking scams to Cambodia targeting local young people.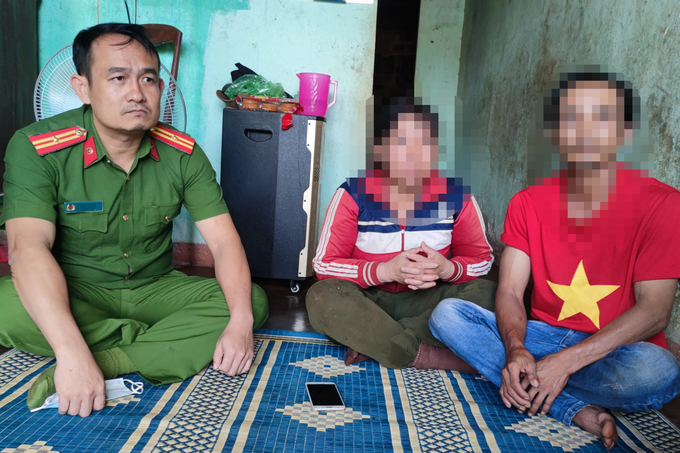 A police officer meets with the parents of a teenager in Quang Ngai Province who is cheated and brought to Cambodia

Police in Quang Ngai and Gia Lai provinces have recently received reports of local teenagers cheated by human trafficking rings and brought to Cambodia to work through social media scams.

According to the Quang Ngai Provincial Police Department, they have received letters calling for help from eight local families whose children were cheated and brought to Cambodia.

Police in Gia Lai Province also said that they had been informed of many young people being cheated by human trafficking rings in Cambodia since early June with two of them having been rescued and brought home.

"The rings often lure young job-seekers through social media sites and then make arrangements for them to enter Cambodia with promises of easy work with high incomes," Gia Lai Police said. "After arriving in Cambodia, these people are requested to take part in various online scams and they are threatened, beaten or fined if they don't work."

One of the saved victims, Pham Phuong Tu, 23, said that he came to Sihanoukville Province to work following promises of a high salary from some people he knows on an online forum. But then he was asked to work on cheating other Vietnamese young people.

"I was beaten when I failed to meet the targets," Tu said. "Then when I told them I wanted to return to Vietnam, they asked for a fee of VND 150 million (USD6,522). My parents sent money to get me home. I faced depression for a long time."

In another case, Nguyen Thi Loan, 16, from Phu Yen Province was also convinced to go to Cambodia with the same promises. Loan left Phu Yen for HCM City to work and then lost contact with her family in early June. In mid-June, Loan called her family saying that she was in Cambodia and needed VND 23 million to pay the ring to take her home. And Loan arrived home on June 20 after her family sent the money.

"Those were two lucky cases who had safely returned home," the police said. "Many families said that they had sent money following requests from the rings in Cambodia but their children had not been released."

Local police are trying to find out the rings which are led by Cambodian nationals while issuing warnings to local people about the scams.